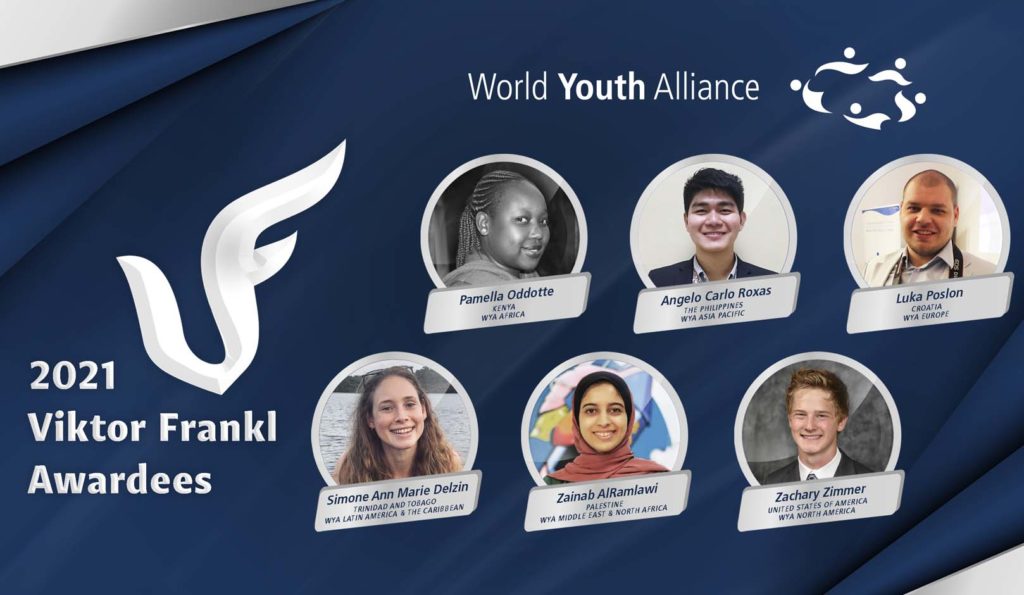 Viktor Frankl's Man's Search for Meaning has been a crowd favorite for many WYA members who want to learn how to be truly excellent. (Spoiler alert: The Certified Training Program actually tells us that it's connected to how we use our freedom!)
This year, we can look no further for people to emulate. WYA is proud to announce the recipients of the 2021 Viktor Frankl Award hailing from the Philippines, Kenya, Croatia, Trinidad and Tobago, Palestine, and the United States of America.



By Popular Demand, WYA Opens the Advocacy Academy

Want to be equipped in responding to global policy debates? Are you a WYA Certified Member who's ready to take on the big questions surrounding issues like Euthanasia, Surrogacy, Reproductive Health, and more?

You'll be perfect for the Advocacy Academy! Apply to be part of the first batch of students in your region. Limited slots available.



WYA Successfully Pilots HDC Grades 9-12

The fall of 2020 marked the completion of piloting Grades 9-12 of the Human Dignity Curriculum (HDC). Led by WYA North America Intern Alumna Clarissa Traub, the pilot was held virtually with select students from the North America region. The up and coming grades are set to be released early 2021.



New Year, New Faces!

WYA is excited to introduce new faces to our team: Ina Delić (WYA's new Southeast Europe Director), Ana Barišić (WYA Europe's New Regional Fundraising Manager), and Zainab AlRamlawi (WYA MENA's Program Assistant). Join us in warmly welcoming them in their new roles!

WYA Around the World
Asia Pacific
WYAAP Opens First Chapter in Pakistan
WYA Antique raises $1,500 for Christmas gift-giving
Middle East & North Africa
WYAMENA Signs a New Partnership with Amity University in UAE
WYAMENA Launches a New Chapter in Jordan
Latin America
WYALA Launches Second Edition of the CTP Get Together
WYALA Seals New Partnership with Universidad de Los Hemisferios
WYA Partners with Universidad Nacional del Este
[su_button url="https://www.wya.net/news/" target="blank" style="flat" background="#0055a4″ size="8″ radius="7″]More WYA News[/su_button]
[su_button url="https://www.youtube.com/user/WorldYouthAlliance" target="blank" style="flat" background="#0055a4″ size="8″ radius="7″]Visit our YouTube Channel[/su_button]