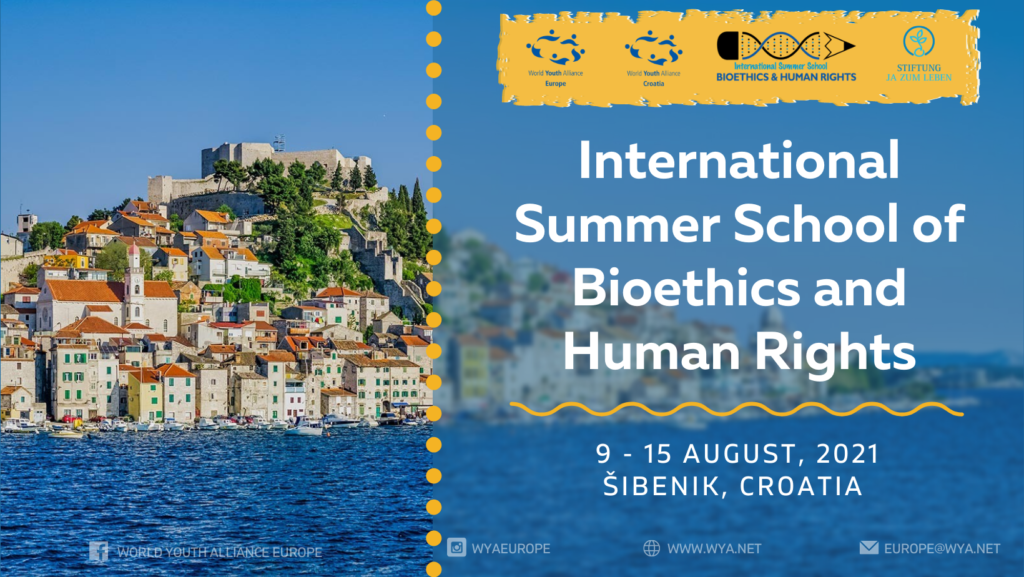 The best summer is what you make it! And with WYA, that's a guarantee.
Looking for a way to impact the lives of young kids? Curious to hear about a curriculum rooted in a strong sense of self? Register for a slot at the Human Dignity Curriculum Open House!
If you're a newly Certified member from Europe, don't forget to catch WYA Europe's Youth Taking the Lead. You won't only get to connect with your fellow certified members, you'll also get to hear from WYA's Founder, Anna Halpine.
BUT if you haven't taken the Certified Training Program yet, WYA Africa's Read the CTP with the WYA Staff might be for you. Or if you're itching to travel while expanding your advocacy skills – apply for the International Summer School of Bioethics and Human Rights.



Get to Know WYA Europe's New Regional Director!

WYA warmly welcomes Myriam Audras this June 1st as WYA Europe's new Regional Director. If you'd like to get to know her, you can also watch the recent live stream announcing her directorship hosted by WYA Europe. Read more



Advocacy Alert: WYA Asia Pacific Releases Statement on the Rising Teen Pregnancies in the Philippines



In May 2021, WYA Asia Pacific submitted a statement to the Philippine House of Representatives. Their proposal outlines WYA's programs as person-centered solutions to the rising case of teen pregnancies in the country.

Read Statement
WYA Around the World
Africa
WYAA Hosts a Successful Youth Summit 2021
Asia Pacific
WYAAP Renews Partnership with LSPR-Jakarta
Europe
WYA France Holds Training for Human Dignity Defenders
WYA Austria and WYA Italy hold Youth Dialogue Solidarity Forum
North America
WYA North America Cosponsors Event on Finding Meaning in College
[su_button url="https://www.wya.net/news/" target="blank" style="flat" background="#0055a4″ size="8″ radius="7″]More WYA News[/su_button]
[su_button url="https://www.youtube.com/user/WorldYouthAlliance" target="blank" style="flat" background="#0055a4″ size="8″ radius="7″]Visit our YouTube Channel[/su_button]