"We affirm that the fundamental unit of human society is the family, where men and women learn to live in genuine freedom and solidarity, and where individuals are equipped to fulfill their social obligations. We believe that the political community at the local, national and international level is obliged to protect and nurture the family."

-World Youth Alliance Charter
Sound serious enough for you? Well, it is.
The World Youth Alliance charter holds family as being of utmost importance, and rightfully so. After all, a person's family is their primary unit in society. It is here where a human being grows and is made aware of the facts of life and the realities of the world. As such, it is only right that World Youth Alliance stand for this.
But here are other things to family as well. Isn't it in the family where we first learn to laugh and have fun? Where we first learn about solidarity through family activities?
One such activity would perhaps be pajama parties. Though probably more identifiable with Western culture, pajama parties have become increasingly popular with the youth today. It has become a popular activity to hold with either family or friends. We could even consider it a "rite of passage" of sorts as a child develops connections both in and out of the family.
Hence, it seemed fitting that World Youth Alliance Asia Pacific held its triannual DigniTEA Party with the theme, A DigniTEA Pajama Party, last January 29, 2016. Members, prospective members, and friends of WYA Asia Pacific flocked to our office in Quezon City, Philippines and joined our interns, volunteers, and staff for a fun-filled night of games, performances, and presentations. And to add to the homely vibe of the event, everyone was encouraged to come in onesies or pajamas.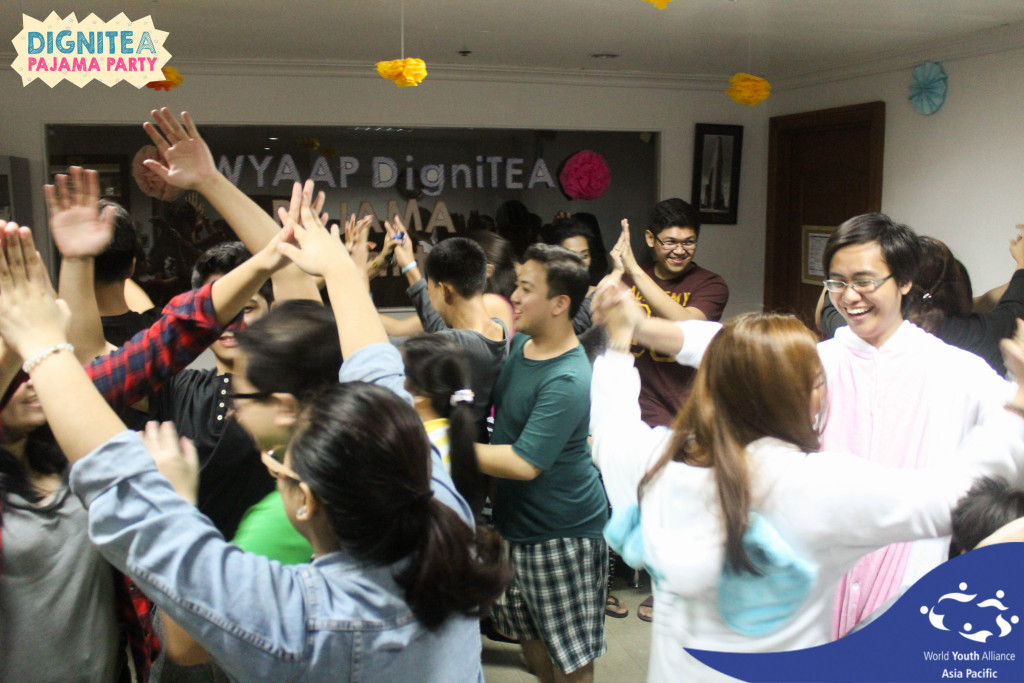 In one of our games, "Bahay, Baboy, Bagyo,"  (wherein participants were forced to scramble for new partners at each new command, questions were asked to the guests. These questions ranged from light-hearted, friendly questions to more serious life questions. I recall how each participant shared about their lives—some shared stories, while others shared their dreams and aspirations. It truly made me happy to see everyone be so comfortable sharing about themselves, in spite of being mostly around strangers they barely knew. More than that, it amazed me to hear so many different stories from all the guests. This, to me, reinforced one fact—that we are all unique.
We are all unique because we come from different backgrounds. We are all unique because we have all gone through different experiences. We are all unique, and this, ultimately, is part of our being human. Perhaps it would then be apt to say that our uniqueness is part of our human dignity. How apt then that this uniqueness was celebrated in our DigniTEA Party?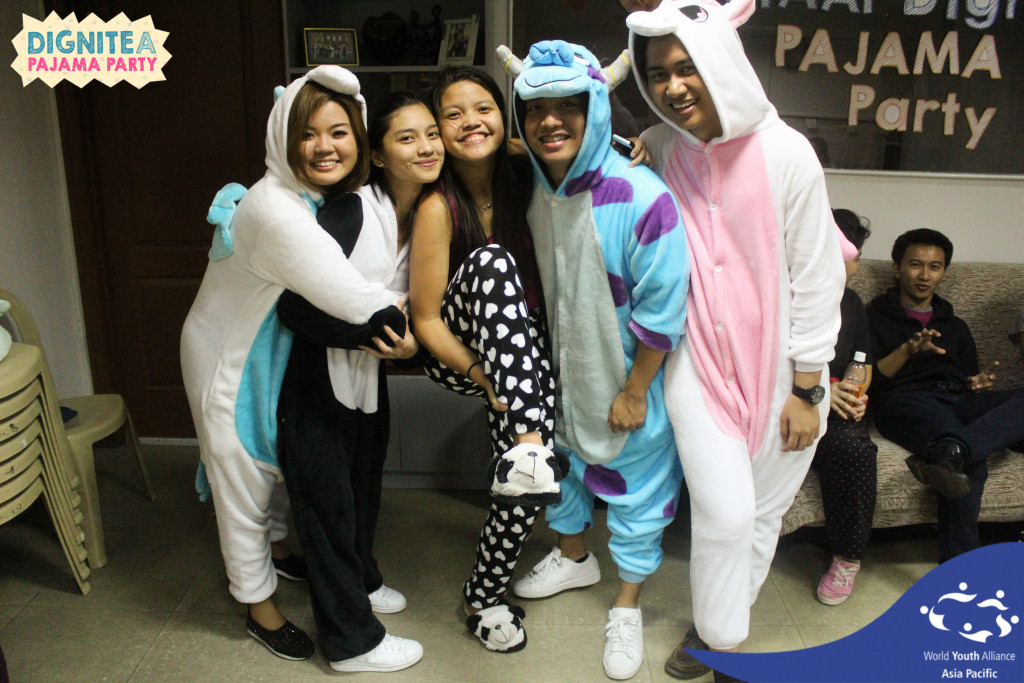 The lesson, I guess, is clear: here in WYA, anyone can find a home and, indeed, a family. Onesies and pajamas not required.
Written by Josh Nitura, current intern at the WYA Asia Pacific office.