Since a year, we frequently feel overloaded with online lectures and events. Do I seriously want to take part voluntarily in another one? Luckily I did! The Training for Human Dignity Defenders was not just "another" online event. Originally planned to take place in Lyon, WYA France transformed the Training into a very creative and successful virtual project. Starting with an ice breaker in the WhatsApp group, all the 35 participants from France, Belgium, Spain, Croatia, Romania, Germany and Austria were getting to know each other. I still remember a lot of the fun facts everybody revealed about himself. There was the person who is not a fan of crunch vegetables, someone who has a dog who can dance and collecting candy paper from all over the world also seems to be a hobby.
Listening to songs like "Wonderful World" or "In the Summertime" while waiting for all the participants to enter the Zoom meeting, conjured a smile on everyone's face. And then the sessions started. The THDD equipped us with knowledge and ideas on how to set up a project in which we want to reach and advocate for hard to reach youth. Sessions were not getting boring as there was a huge variety. Interesting Presentations, interactive workshops, problem and solution seeking in break out rooms, Q&As and a funny quiz on the Kahoot platform were the content of the program.
During the project, various participants presented projects they implemented or in which they had taken part in their country. I was delighted by the endless ideas and approaches that exist on how to reach youth. One project in particular keeps going in my mind. Ana from Croatia told us how she and other young people encouraged homeless people to take part altogether in a painting course. To me this seems a brilliant idea. The program puts homeless people, as well as the volunteers in the same position. Using art as a bridge to reach others is a beautiful and very enriching way.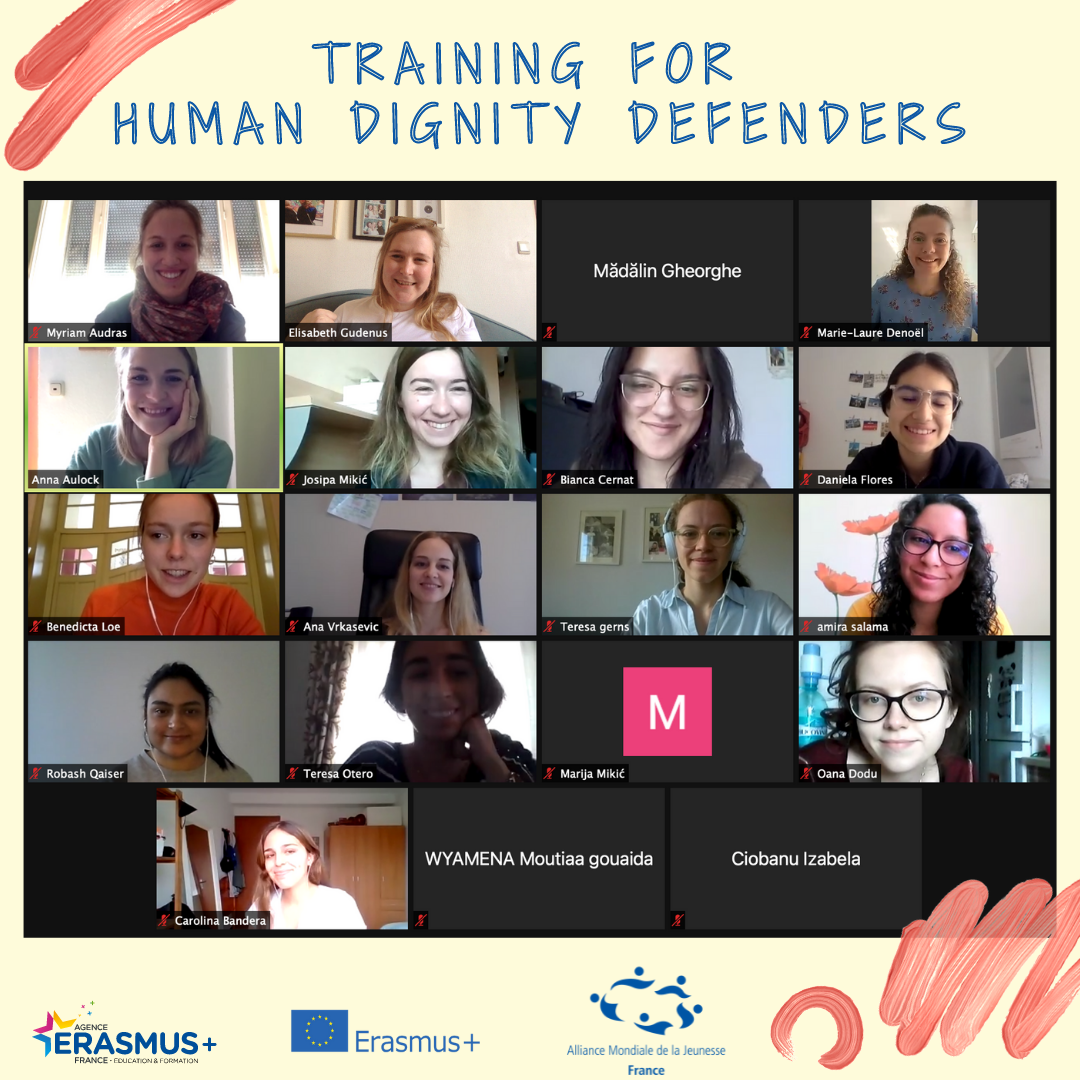 Another day Anna, a WYA member and social worker from Germany, was invited to share her experiences as a social worker with us. She explained that there are certain points that have to be considered when working with youth:
1. Reach out – give them the feeling that they are the experts
2. Find a common ground
3. Be authentic while understanding the person in front of you
4. Find positive resources in their life and show them that they are good at something
5. Apply these resources on to a new perspective in their life
6. Meet the person regularly and empower/strengthen these resources
In my opinion all of these aspects are very valuable and I can think of various situations in daily life where it would be helpful to apply them.
What is my personal outcome of the THDD? I feel encouraged, motivated and inspired. Encouraged by the knowledge we were equipped with to set up a project in a professional and realistic way, motivated by all these amazing young participants from all over Europe who were taking part in the THDD and inspired by the many creative ways on how to reach youth and show them "You have dignity!".
---
Published: May 20, 2021
Written by Benedicta Loë , a WYA Europe Social Media Intern