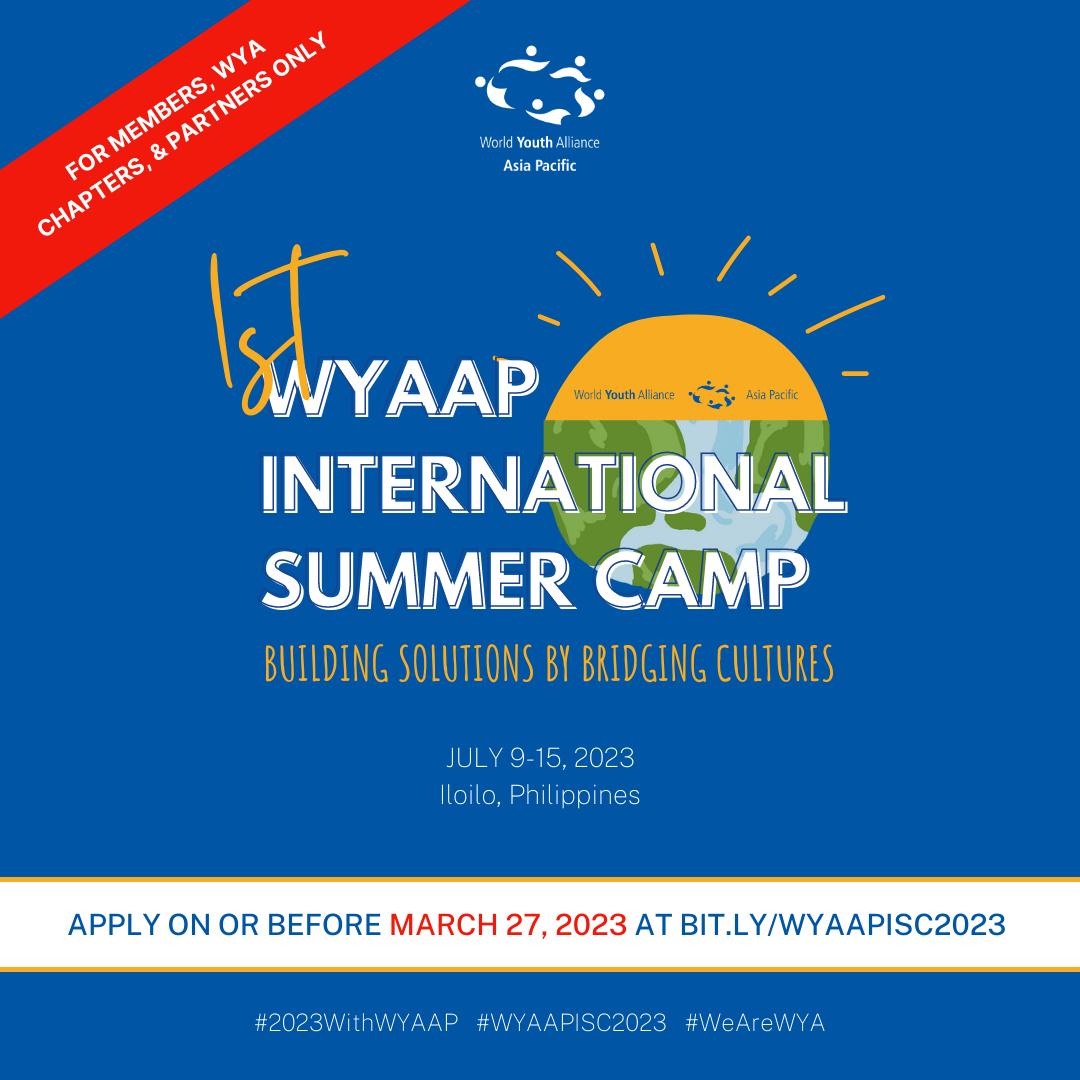 About the ISC
World Youth Alliance Asia Pacific (WYAAP) is thrilled to announce that applications for the first-ever international summer camp happening in the Philippines on July 9-15, 2023 have officially opened!
With the theme, "Building Solutions by Bridging Cultures", the 1st WYAAP International Summer Camp is an intensive Certified Training Program (CTP) open to eligible members from all WYA regional offices. Aside from going through the CTP, the program also aims to foster an environment that encourages participants to share their cultures with each other through fun and meaningful activities. Above anything else, it will allow them to collaborate with one another by building ideas that can bring WYA's mission to their respective communities.
Let this be your first step in becoming dignity defenders! As an international youth NGO that advocates for human dignity by promoting human rights, protecting the family, and nurturing holistic development for every person, learn how you can develop person-centered solutions (while having fun!) through our 1st WYAAP International Summer Camp!
To apply, kindly ensure that you are already a WYA Member by agreeing with our WYA Charter, you are between 18 and 24 years old on the dates of the camp, and you haven't been accredited as a Certified Member yet.
A LIMITED EARLY BIRD ADMISSION FEE of PHP 13,500 for Philippines-based campers and $ 250 for international campers will be granted to accepted applicants who sent their applications on or before February 12, 2023 (11:59 PM GMT +8) while there will be a REGULAR ADMISSION FEE of PHP 15,000 for Philippines-based campers and $ 280 for international campers who sent their applications on or before March 27, 2023 (11:59 PM GMT +8).
These fees are INCLUSIVE of the following:
1. Daily meals, snacks, and refreshments
2. Accommodations for 6 days and 5 nights
3. Local transportation to and from the airport
4. Camp kit and materials
But EXCLUSIVE of:
1. Airfare to and from the Philippines
2. Passport and/or visa processing fees
3. Bank/payment portal wire fee (e.g.: Paypal and/or local bank wire fee/s)
However, we may provide a letter of invitation to accepted foreign nationals as needed. Kindly be informed that the admission fee is non-refundable and will only be settled upon receipt of your acceptance letter to the camp. Moreover, please note that as of the moment, we cannot provide scholarship funding in the event that you get accepted but we would be more than glad to support you in looking for sponsors.
You will be notified on the status of your application no later than April 11, 2023 through the email address you'll be entering below. Kindly ensure that it is active and we encourage you to check your spam folders too.
Should you have any questions, please feel free to reach out to us through wyaap.summercamp@gmail.com and we would be more than glad to get back to you. For now, be sure to follow us on our official social media accounts provided below for updates!
Instagram: @wyaasiapacific
Facebook: @WorldYouthAlliance.AP
All the best with your application and we hope to be sun-kissed with you in the Philippines soon!