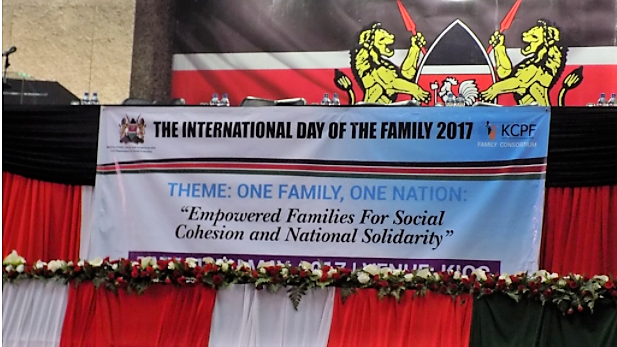 The 12th of May 2017 was no ordinary day. It was the International Day of the Family. In Kenya, the national event took place at the Kenyatta International Convention Centre (KICC) Auditorium. The conference was organized by the Kenya Christian Professional Forum in conjunction with the Ministry of Labour and other partners including the World Youth Alliance Africa.
The Guest of Honour was the Cabinet Secretary of Labour Mrs. Phyllis Kandie. We were all waiting in anticipation for the guest of honour to arrive. Sooner than later, the arrival of the Principal Secretary in the Ministry of Labour was announced. We all honoured her entry with a standing ovation. She was standing in for her boss who was away on official state matters. She gave the opening remarks and declared the conference open. Speakers then took the floor as per the program of the day all of them emphasizing on the theme, "One Family One Nation"
When it was time for WYA president Lord Pomperada to speak, he gave a brief introduction to the World Youth Alliance and spoke about the importance of nurturing the family in his presentation titled "Safeguarding Vulnerable Persons in the Family." He also stated the position of WYA on the family as articulated in the WYA Declaration on the family which "…recognizes that the family is the most basic unit of society and the place where free and responsible citizens are best formed. In order to develop free and just societies, the family must be cultivated and protected in culture and law…". After the insightful presentation, the floor was open for a question and answers session.
A delegate took the floor and this marked a totally new beginning for me. His name was James, a student from the University of Nairobi. He introduced himself and briefly shared his story. He was born with two genitals, both male and female. The confusion led to his identity being misplaced. The family decided that he is a girl and so he was named Mary throughout his life until after high school. He came to the realization that he was a man when he was in form 3 in a girl's boarding school. Instead of developing like other girls, he was developing into a man. His voice was breaking and he was becoming muscular. These changes made him rethink his true identity. He also shared how intersex people in many African communities are regarded as outcasts. Some are even killed at birth.
I would like to just bring out the fact that, many times, people confuse the terms intersex and transgender. An intersex is an individual born with a reproductive or sexual anatomy that doesn't seem to fit that average definition of male or female, it is a situation that is of biological origin and not a personal choice. On the other hand, a transgender individual is one who feels they have a gender identity or gender expression that differs from their assigned sex.
The challenge he faced now, was how to bring to the world the reality he had just discovered.
All along he has been meant to believe he was a girl and everyone around him identified him as such. How was he going to break out this news to the world? How was he going to make peace with himself?
It was a real struggle, a struggle to accept who he really is, Charles Malik in WYA's Certified Training Program chapter two 'man in the Struggle for Peace states that, "…We made neither our world nor ourselves: we find ourselves in this state…" James had found himself in this state struggling with what this revelation would mean for him, his family and his community at large because naturally, we are struggling-caring beings. The kind of struggle articulated by Charles Malik and because fate had it that we all be different, we must appreciate this difference. However, all said and done, we are all human, regardless of the differences in our physic and for this reason, dignity, we all poses.
To conclude, I believe It is a time we recognize the intersex people as a vulnerable group of people and stand up to defend their dignity. Their voice needs to be heard and they need to be empowered like the rest of the people without discrimination. They need to be respected, included and represented as people with dignity. Intersex people are part of the family and they should not be seen as a disgrace because they have intrinsic and inviolable human dignity and unlimited potential just like everyone else.
Written by David Kisache, a current intern at the WYA Africa Regional Office.