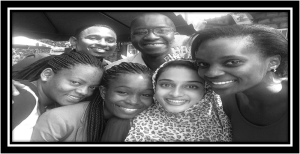 From baby Natasha born on Monday 03/02/1992, to simply Natasha El-kathiri aged 23 and intern at World Youth Alliance Africa.
I used to be a little curious, adventurous, and cheerful girl who lived to get the attention of people around her for anything she thought might be an object to change according to her personal view of the world. I was then a child with no fear, no greater expectations, but only dreams, and excitement.
I am now a grown up girl who has come to understand the world surrounding her little self, I have encountered the underlining issues of the World today. With that understanding I have begun nurturing my career and turning the little girl's dreams in to reality with a belief in humanity, solidarity, self worth, respect of the human kind, and nature.
Oh my! You all should see how excited I am today. Up early in the morning I hurriedly ran to take a shower, then after I put on an army green dress, rouge lipstick, perfume, cheetah print hijab – expression of my religion belief, very high and expressive heels – expression of my female sense, and above all the most beautiful smile showing off my '42 teeth' as a friend would describe it.
This is actually my first birthday at work and I was yet to know the big surprise awaiting me. By the way, the team at W.Y.A Africa played it well starting with a dull attitude to surprising me with an outdoor lunch setting beautifully prepared, the cutest chocolate chip cupcakes decorated with lit up candles and a princess crown on top of it. Little did I know that they have been planning this for almost 2 weeks; actually, from the first day of my enrollment in this internship.
This whole day has gone by with EXCITEMENT and friendship. I am enthusiastic about being 23 year-old, and hopefully, wiser girl who has grown from innocence and careless to possessing self confidence, an outspoken mind and a more focused purpose.
I realize that I know my WHY, my particular AIM. I nourish the purpose to encourage the Kenyan youth to acknowledge self worth in life, and I live a passionate life to save the lives and dignity of the Women and Children in my community. Importantly, I wake up every day to change the perception of individuals concerning Muslim ladies.
Goodbye "BABY NATASHA". Goodbye. And now; cheers to a new dawn to my never ending excitement.

By Natasha El-Kathiri, a Kenyan and Regional Intern at WYA Africa