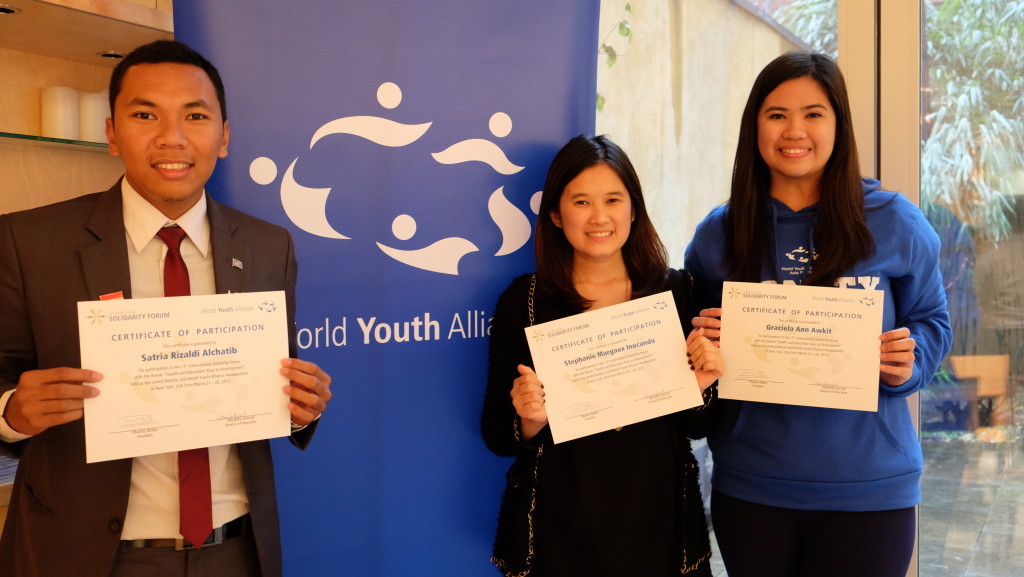 Where am I? Where do I want to be? How do I get there? – These three self-confronting questions served as my guide in chasing my dream of becoming an Asia Pacific delegate to International Solidarity Forum (ISF). After all, it was my chance to see the United Nations and the World Youth Alliance Headquarters. I knew from the start that it would not be easy, given that there would be conflict with my academic responsibilities, including the examinations I will miss during that week. But this was something I really wanted. And I believed it would have been a bigger failure if I decided to miss out on this one of a kind opportunity. I had the choice to put my visions into actions. And guess what? EVERYTHING was worth it!
When I arrived in New York, I was disoriented. First there was the time difference. And then there was the temperature difference. "Cold" would not even be sufficient. Of course, to a Filipino (or even an Asian), what would America be without its large servings of food?
Everything was overwhelming. During the ISF, I met different people driven with passion to work towards progress, from various regions all over the world. Despite the fact that we came from diverse regions and formed a mosaic of cultural differences, these did not hinder us to respect one another and acknowledge the worth and capabilities of everyone. At the end of the day, we are bonded by our goal: to promote and live out human dignity. As I woke up every morning, I knew that the day would be great and fulfilling because I will learn something new which I can apply as a contributing member of the society I belong in. Every day, I go back to the rationale, I am in NYC to be inspired and inspire other people, to explore and rediscover, to learn and live life to the fullest.
The ISF 2015 served as an avenue for me to relate all the things I learned in school. In relation to my undergraduate course, we also tackle world's most pressing issues (including health and education), international relations, advocacy and policy making as well as cultural differences within regions. But beyond this, ISF 2015 unleashed my maximum potential in knowing more of myself and worth as a woman which I can surely apply in life, especially when I reach the point of settling down. Our Track A lesson on freedom for excellence also came in very handy- that in all events I should be informed enough before coming up with a decision that will best represent my rights and privileges as a person.
Time Square, Broadway, Brooklyn Bridge, Statue of Liberty, Central Park, The Metropolitan, MoMA, Serendipity 3, Rockefeller, St. Patrick Cathedral, and University of New York, name it. God knows I am more than grateful and my heart could not ask for more. Spending two weeks in the, as the song suggests, "concrete jungle where dreams are made of," meeting and working with amazing people from different parts of the world; and transforming goals into reality are all tantamount to the greatest surreal emotion. But then, YES, it happened to me. I can still feel it and I know I will never forget this feeling. Being part of WYA is a superb blessing. I will always regard my New York 2015 experience as one of the highlights of my life.
By Graciela Ann Awkit, a Summer Camp Graduate and Track A Certified Member of WYA Asia Pacific. To read more about the 2015 ISF, click here. To read the Declaration on Health and Education, click here.