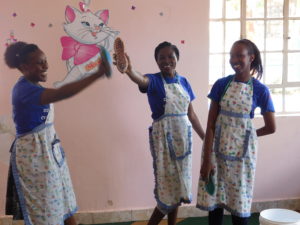 Sometimes I pose and think about life and why it has all these corners and various experiences which can be both beautiful and ugly. Sometimes it offers one experience that we least expect or one you wouldn't have thought of at any time in your life. But why should it take even the innocent ones to strange corners even though they neither understand its beauty nor ugliness? Maybe that is the nature of life? Who knows?
Some of the most beautiful phenomena in life happen during the month of February, a month of love where people show love to the ones they love and care for. Each person has a way to express this love to their loved ones during this time. There are those who send flowers to their lovers, presents, gifts, proposals or go out for dinner. But in World Youth Alliance, we always embrace such days by promoting human dignity. Here we find a sense of accomplishment by remembering the less fortunate in the society, holding them close to our hearts and reminding them that they are very important members of the society.
On the 16th February 2018, I was privileged to spearhead one of World Youth Alliance Africa's dignity projects. We chose to celebrate love with the children of the Lang'ata Women's Prison Day Care Centre and their mothers. Mother Teresa once said, "It's not the magnitude of our actions, but the amount of love that is put into them that matters."
The Lang'ata Women Prison is one of the maximum-security female institutions that have a day care facility for the inmates' children who are below four years old. Some of these children were born in the correctional facility while others accompanied their parents to the facility. These children, whose other family members are either unable or unwilling to care of them, spend every moment of the day with their incarcerated mothers. They do not depend on the government for any other help apart from the basic needs, but they depend on well wishers like World Youth Alliance Africa who not only donates various items for their upkeep but also makes them feel they are a part of a community. After four years, they are either given back to other family members or taken at the Nest Children's Home in Limuru.
The children accompany their mothers not because they have any committal warrants but because they are very innocent. They are there only by default because of their mother's mistakes. They have a right to live the ordinary life of a child like any other child out there, but they have been deprived by circumstances. Every morning, their mothers walk along the concrete hallways to the nursery where they drop them off to allow them to enjoy a few hours of normal childhood eating and playing amongst themselves as their mothers go to work in the prison industries. In the evening, they feed on rice and beans for supper before going back to sleep with their mothers in the cells. The children don't know it's a prison. Since it has become their place, they think it's their home.
We had a chance to interact with Madam Josephine who is in charge of them at the day care centre. Some of the mothers narrated to us what they feel about the situation. Madam Josephine took us around the facility and encouraged us to play and interact with everyone, especially the children. This is because most of the time, they miss having a father and mother figure around. During the bonding session with the 'little innocent angels', we had a chance to play various games with them, do arts and crafts, and sing and dance together. We also ate lunch with them (ugali and sukuma wiki), fed them, washed them, changed their diapers, and sung lullabies for them during their nap. Later, we helped the prisoners in washing utensils. In the afternoon, we met with their mothers who were behind bars serving their terms. We had organized a talk for them on parental skills which our Regional Director of Operations Kevin Alando facilitated. These women had various questions which was a great indicator that they long to be out one day and help others understand the importance of living in peace and respecting each person despite what they do to you. They also think that once they are outside, they will be more thoughtful with their actions than before.
I interacted with a few mothers who had the courage to share their story with me. One of them told me that she thinks it would be great if her son would have remained with a relative than to be in this environment with her. But again, she doesn't know what would be happening to him if he was away from her."It hurts me so much to see my son in here as if he committed a crime but I have nothing to do, maybe it is my mistake. I hope he will forgive me one day when he's grown for denying him freedom and taking him through all this suffering" she says.
Other women too added that it hurts to see their children cut off from the society and treated as criminals and put in environment that hinders their normal childhood development. Even if they would wish their children to be taken back home to other family members, or to give their child up for adoption, there's a lot of bureaucracy in the process. A willing mother has to apply to the prison where she is serving her sentence through a welfare officer. The officer then forwards the application to the Children's Department, which in turn takes it to court. The court then orders the Children's Department to access the home of the inmate to ascertain whether it is conducive for bringing up the child. The findings are then presented to court and, if accepted, a procedure to release the child to foster care is initiated. All this takes several months or even years.
During my connection with the women, I realized one great thing: most of them still hold on to God that one day they will be free to unite again with their families .Their stories on their experience took my mind back to the CTP chapter 3 on Freedom, Mans search for Meaning by Viktor Frankl which narrates his experience in the concentration camp. If I can quote, "The crowning experience of all, for the homecoming man, is the wonderful feeling that, after all he has suffered, there is nothing he need fear any more—except his God."
Written by Violet Ombaka from the World Youth Alliance Africa – Regional Intern.