[su_tabs active="2″][su_tab title="English"]
Many times in our daily lives we have surely heard people say phrases like "I almost lost my dignity" or "How could you think of doing that, don't you have any dignity?" I must admit that at some point I have also said these phrases, believing that it was possible to lose my dignity at any moment due to some specific circumstance. However, since the beginning of 2021, I have learned that this does not happen. Human dignity is the inherent value of each person, that each one of us has by the simple fact of being a person and nothing and no one can take it away from us.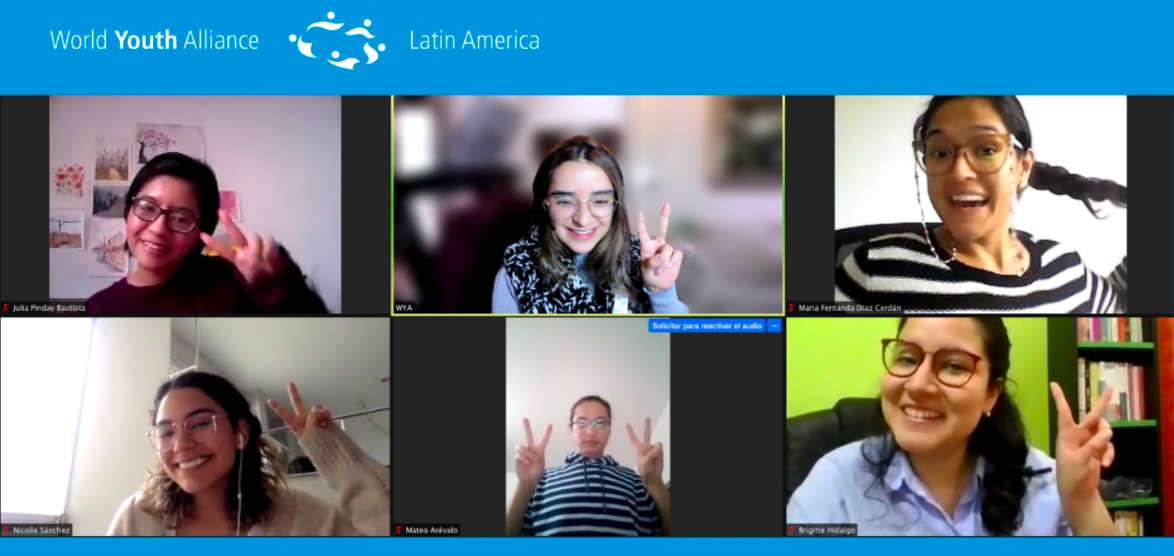 After being part of the Certified Training Program of the World Youth Alliance, I was able to understand this concept and much more. We talked about issues since the creation of the WYA and how a person like Anna Halpine, at the age of twenty-one, decided to raise her voice to discuss issues such as access to education, access to clean water and basic health and sanitation services. We also talked about freedom for excellence, which we should always strive for, as well as the importance of solidarity, culture and human rights. These months in the program taught me that when we manage to understand the person from a holistic approach, that is, from their various dimensions: moral, spiritual, emotional, physical and intellectual, the work we can do is more satisfactory, since it can focus on their integral development and, therefore, on that of societies.
For this reason, once I finished the training, I did not want my experience with WYA to end there, so I decided to become a certified trainer and pass on the knowledge I had learned in the CTP and, in addition, to apply for a regional internship. It has been one of the best decisions I have ever made!
By being accepted for the internship, I have learned a lot and continue to do so every day. From day one, thanks to an incredible team led by our great and inspiring regional director Paula Lopez, we have been able to put into practice the defense of human dignity through the organization of events for members of the organization, as well as for people interested in being part of it. In every job we have done, we have been able to raise our voices and transmit the great work of the World Youth Alliance to every corner of Latin America.
WYA is an organization full of life, with incredible young people who, like many others, want to defend the dignity of the human being. It is possible! For this reason, if you, who perhaps by chance are reading this, want to be part of this great family, don't hesitate for a second, join us, the World Youth Alliance is waiting for you with open arms!
[su_divider top="no" margin="0″]
Published: Aug. 19, 2021
Written by Brigitte Hidalgo Soriano, World Youth Alliance Latin America Project Management Intern.
[/su_tab]
[su_tab title="Spanish"]
Mi Recorrido Hacia La Defensa De La Dignidad Humana
En nuestro día a día muchas veces seguramente hemos escuchado a las personas decir frases como ¡casi pierdo mi dignidad! o ¡cómo se le ocurre hacer eso!, ¿acaso no tiene dignidad? Debo de admitir que yo en algún momento también he dicho estas frases, creyendo que era posible perder mi dignidad en cualquier instante por alguna circunstancia en específico. Sin embargo, desde inicios del 2021, aprendí que esto no sucede así. La dignidad humana es el valor inherente a cada persona, que cada uno de nosotros tenemos por el simple hecho de ser una persona y nada ni nadie nos la puede arrebatar.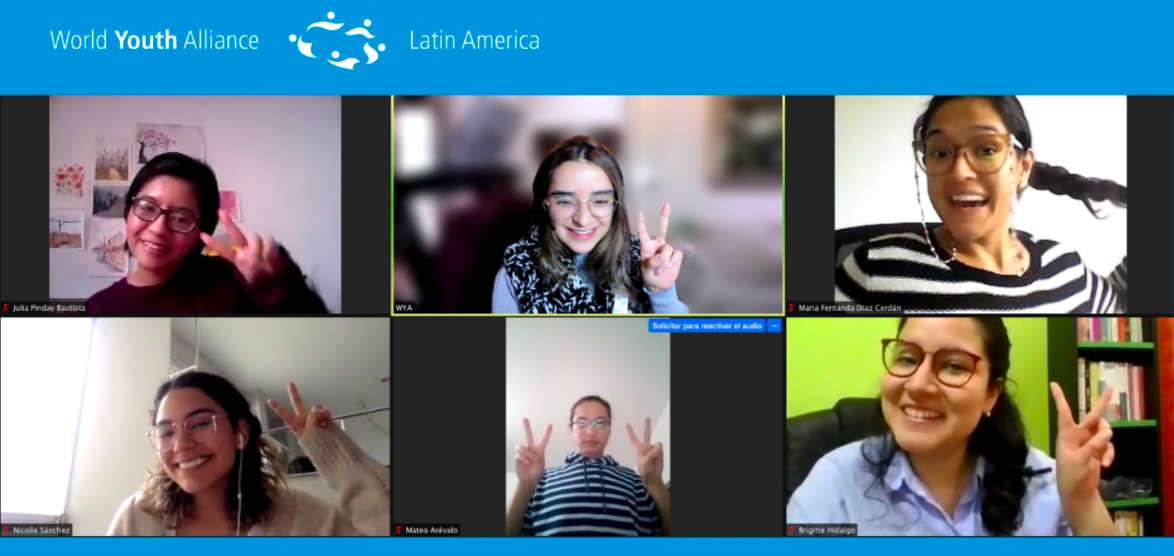 Después de formar parte del Certified Training Program de la World Youth Alliance, pude comprender este concepto y mucho más. Hablamos sobre temas desde la creación de la WYA y como una persona como Anna Halpine, a los veintiún años de edad, decidió levantar su voz para discutir temas como acceso a la educación, acceso a agua potable y a servicios básicos de salud y saneamiento. Asimismo, hablamos sobre la libertad para la excelencia, aquella que siempre debemos de intentar perseguir, así como la importancia de la solidaridad, la cultura y los derechos humanos. Estos meses en el programa me enseñaron que cuando logramos comprender a la persona desde un enfoque holístico, es decir, desde sus diversas dimensiones: moral, espiritual, emocional, física e intelectual, el trabajo que podamos realizar es más satisfactorio, ya que puede enfocarse en su desarrollo integral y, por ende, en el de las sociedades.
Por este motivo, una vez finalizado el entrenamiento, no quise que mi experiencia con WYA terminara ahí, por lo que decidí volverme entrenadora certificada y transmitir los conocimientos que había aprendido en el CTP y, además, postular a una pasantía regional. ¡Ha sido una de las mejores decisiones que he tomado!
Al ser aceptada en la pasantía, he aprendido mucho y día a día lo sigo haciendo. Desde el día uno, gracias a un equipo increíble liderado por nuestra gran e inspiradora directora regional Paula López, hemos podido llevar a la práctica la defensa de la dignidad humana a través de la organización de eventos para miembros de la organización, así como para personas interesadas en formar parte de esta. En cada trabajo realizado, hemos podido levantar nuestras voces y transmitir la gran labor de la World Youth Alliance a todos los rincones de Latinoamérica.
WYA es una organización llena de vida, con jóvenes increíbles que al igual que muchos deseamos defender la dignidad del ser humano. ¡Es posible! Por este motivo, si tú, que tal vez por casualidad estás leyendo esto, quieres ser parte de esta gran familia, no dudes ni un segundo. ¡Únete, la World Youth Alliance te espera con los brazos abiertos!
[su_divider top="no" margin="0″]
Publicado: 19 de agosto de 2021
Escrito por Brigitte Hidalgo Soriano, World Youth Alliance Latin America Project Management Intern.
[/su_tab] [/su_tabs]