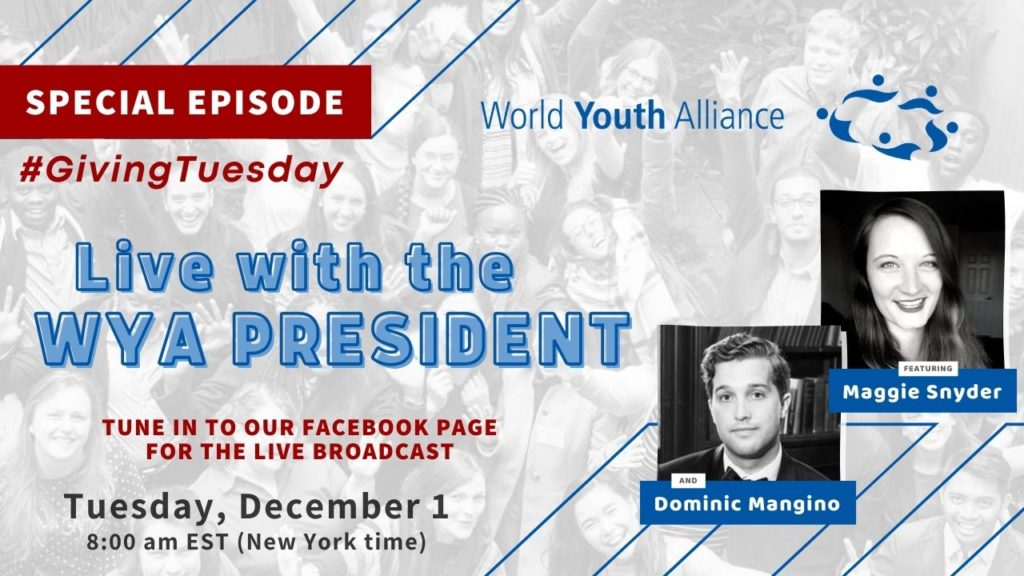 By supporting our future leaders, of course! This Giving Tuesday, celebrate with us at Live With the WYA President. Two special guests will tell us how WYA makes sure that your gifts keep on giving.
Don't miss our Giving Tuesday episode on December 1, streaming on Facebook and Instagram.
[su_button url="https://www.wya.net/donate" target="blank" background="#0055a4″ color="#ffffff" size="7″ radius="5″]Yes, I'm ready to give![/su_button]



Take your WYA journey to the next level!

Get the chance to be a regional delegate at the 2021 International Solidarity Forum. Chosen participants will interact with our best WYA members from all over the world and learn under experts on topics relevant to ongoing international policy debates.



Ready for the highlight of your 2021?

Your next big adventure might be one click away. Get hands on experience in advocating for dignity in the professional setting by applying for the WYA #BestInternship . If immersing in culture and philosophy is more up your speed, dive into the WYA Certified Training Program. Members have definitely given it the pandemic seal of approval.

WYA Around the World
Africa
WYA Africa Holds HDC Training and Refresher
Asia Pacific
WYAAP Gathers Certified Members for a Night of Mocktails and Fun
Europe
WYA SEE Launches Social Entrepreneurship for the Dignity of Youth
Middle East
WYA Middle East Rebrands to WYA Middle East & North Africa
Latin America
WYA LA Hosts Webinar Series on Solidarity
WYA LA Seals Partnership with Asociación UNACEM
[su_button url="https://www.wya.net/news/" target="blank" style="flat" background="#0055a4″ size="8″ radius="7″]More WYA News[/su_button]
[su_button url="https://www.youtube.com/user/WorldYouthAlliance" target="blank" style="flat" background="#0055a4″ size="8″ radius="7″]Visit our YouTube Channel[/su_button]