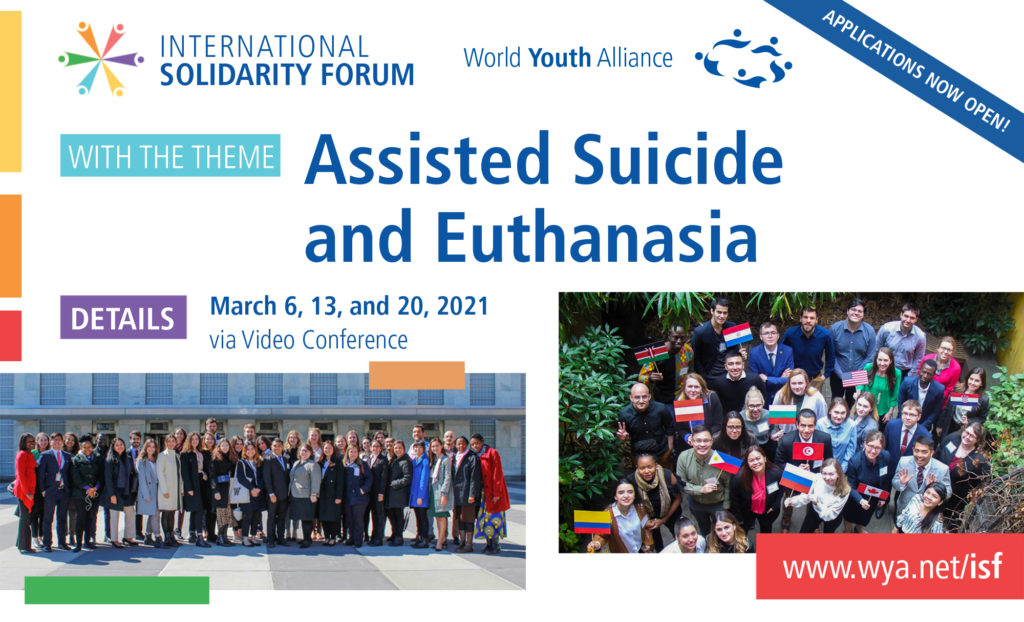 Are you a certified WYA member? Then you might be your region's next representative to the virtual edition of the 18th International Solidarity Forum (ISF)!
Applications are officially open for the 18th ISF to be held on March 6, 13, and 20, 2021 with the theme Assisted Suicide and Euthanasia. Selected delegates will train on international policy issues, engage with experts in the field, and negotiate with our best certified members around the world. Register here.



Are you an Emerging Leader?

This one's for you! The Emerging Leaders Conferences is designed to give young people a regional platform to engage in discussions, lectures, and training on relevant international topics. This year's ELCs will tackle the theme of Reproductive Health.

Don't miss the chance to apply for the upcoming ELCs in the Middle East and Latin America!



Advocacy watch: Mexican Bill would legalize abortion, contraception, and sex ed for minors

Three Mexican senators have put forth a Bill which would legalize abortion, including for girls as young as thirteen, provide children with contraceptives, and require comprehensive sexuality education, all without parental consent. Read more on the bill and WYA's stand here.

Want to learn more about the law surrounding this topic? Check out WYA's white paper and fact sheet on reproductive health.



For the WYA Member who learns beyond borders:

If you missed the workshop series Minerva Schools at KGI and WYA launched last month, applications for the final workshop on the Decision Matrix are officially open!

Minerva students are unique — their curiosity, creativity, and drive to change the world sets them apart from a traditional university experience. If you're craving a globally-minded college experience unlike any other, Minerva could be right for you. The Early Action deadline to apply for Minerva's Class of 2025 is November 1, 2020.
WYA Around the World
Global
WYA President invites members to join virtual Global Youth Trends Webinar
Africa
WYA Africa Concludes FEMM: Know the Basics Webinar Series
Asia Pacific
Universitas and FEMM team conduct FEMM Intro Session
WYA Statement on the Imposition of Death Penalty for Rape in Bangladesh
[su_button url="https://www.wya.net/news/" target="blank" style="flat" background="#0055a4″ size="8″ radius="7″]More WYA News[/su_button]
[su_button url="https://www.youtube.com/user/WorldYouthAlliance" target="blank" style="flat" background="#0055a4″ size="8″ radius="7″]Visit our YouTube Channel[/su_button]