Splendour and Misery. Images of Prostitution 1850-1910
Izložba koja je trebala reći sve!
[tabs]
[tab title="English"]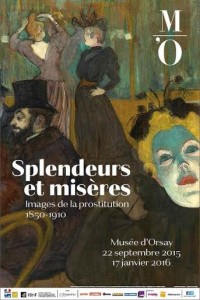 For the first time- prostitution on the big screen of one famous museum
"Paris celebrates art of the demi-monde" wrote The Guardian, while Independent stated that the Musée d'Orsay, one of the world's most respected art galleries deals with a subject that has never before been addressed by a leading museum – prostitution.
What is so interesting in Musée d'Orsay that everyone is running (more than ever) to visit it? The new d'Orsay's show has brought together masterpieces by Edgar Degas, Henri de Toulouse-Lautrec, Édouard Manet, Edvard Munch, Vincent van Gogh, Kees Van Dongen and Pablo Picasso who are united by the theme of their canvasses. This time it's all about prostitution. Every major artist and writer living in Paris in the second half of the 19th century explored that subject. The artists explored only the world of female prostitution; male prostitution was treated as a homosexual act subject to criminal prosecution. Some of them showed the subject with some kind of fascination and others with growing disgust for its consequences.
From the boulevards over brothel to opera and ballet
The title Splendours and Miseries: Images of Prostitution 1850-1910 is inspired by Honoré de Balzac's Comédie Humaine novel Splendeurs et Misères des Courtisanes. Everything begins on the boulevards of Paris. As Gustave Flaubert wrote in June 1842:
"What seems to be most beautiful in Paris is the boulevard … at the hour when the gas lamps shine in the mirrors… I'm going to walk there, peacefully, enveloped in the smoke of my cigar while looking at the women who pass. This is where prostitution is on display, this is where eyes shine!"
In the opening room of the exhibition hangs among many others the Jean Béraud's Attente showing a woman wearing flat black tie shoes and a long black boa. The usual sign of a prostitute is a slightly lifted skirt as on this painting. Also, the woman alone in a bar for example, as shown on Degas' paintings, tell us that she was not the "honest women", since being a honest women meant never to be left alone in a bar without a man.
The next theme presented on the exhibition is the cornerstone of prostitution in the mid-19th-century, the so called "maison close" – "closed house," or bordello, a controlled legal entity where women were registered with the police and subjected to regular medical examinations. Those women find their place on Toulouse-Lautrec's paintings who loved to paint their free time. Several bordello paintings by Toulouse-Lautrec are represented here, the women depicted neither as victims nor femmes fatales, but as working women. Whereas the exhibition does not examine the problem of prostitution as the great degeneration of our time, we have to content to be moved by questions such as: who are the women on Toulouse-Lautrec's paintings? What were their destinies? How does it come that they finished selling their bodies?
In the next cycle exhibition explores the world of courtesans, the top of the prostitution's hierarchy. These were the women who were often showered with jewels and elegant clothing and housed in luxuriously decorated mansions. The painter Charles Maurin showed disgust to the lifestyle of aristocrats. He claims that the ballet is shameful because it shows the bodies of women who are selling themselves ("Le ballet est ignoble. C'est une exposition des filles à vendre").
This kind of lascivious scenes of highly positioned prostitutes was lively presented by Edouard Manet in his Bal masqué à l'Opéra, 1873. Picasso had the tendency to show them in melancholy and in sadness after they discovered they were infected by syphilis. By that time Manet already painted his Olympia, the painting of his muse, the 17-year-old Victorine Meurent, posing as a reclining prostitute, with a gaze of independence and defiance that shocked the art world. By the beginning of the 20th century, the artists' attitude has changed. The pictures were more caricatured, nasty even, reflecting a misogynist society.
Art or pornography?
We have to admit that some of the greatest masterpieces like Manet's Olympia and Picasso's Demoiselles d'Avignon would not have existed if there were no prostitutes to pose for those masters. But some French critics are skeptical about the motives behind the exhibition Splendor and Misery: Pictures of Prostitution, 1850-1910 on view at Paris's Musée d'Orsay through January 2016. "Everyone knows that cultural budgets are being constantly nibbled away" writes Philippe Dagen, according to Independent, "but is it really necessary to solicit visitors by showing naked women in lascivious poses and naked men exhibiting their genitals?" Harry Bellet, in Le Monde, compares the museum to a cash-strapped art-house movie theater showing smut to cover its financial losses on more high-minded screenings. He asks, "Is that the point we have now reached with big art exhibitions?"
Perhaps the masterpieces we are talking about are not as problematic as three "optional", "private" rooms on the exhibition prohibited to minors. They are protected by red velvet "brothel" curtains. Their aim is to provide the visitor the possibility to see the photography and porno films of that time. Photographers were forbidden to enter the brothels with photographic equipment so they imitated in their homes the scenery of brothels. They worked with experienced models on producing pornographic material.
Is it possible that the Musée d'Orsay really strayed in the strange territory or critics are just purists who don't accept the fact that tourists are willing to embrace pornography in museum just because of the fact that they are so hungry of everything that comes from Paris? Therefore, if Parisian's large boulevards and their frequent prostitution as a reflection of the decadent Paris at the turn of the Second Empire and Belle Époque fascinated artists, where is the problem in dedicating an exhibition to these lascivious topics? Paris was (is) so fused with prostitution that Baudelaire's question: What is art? was simply answered by himself: Prostitution.  It is obviously not the topic that bothers critics, but rather its presentation, which according to many had slipped over from the field of art into the field of eroticism.
Prostitution is legal and common, so is it a normal social phenomenon?
As a whole, this thematic exhibition documents through multiple media prostitution as a legal and quite common phenomenon in Paris. In its neutrality, it brings the first signs of feminism or rebellion against prostitution, but shows scenes of illegal prostitution among homosexuals. This exhibition unfortunately leaves completely open (or perhaps closed) door to issues such as human nature and its dignity which is deeply opposed to the experience of selling human body as item that can be sold depending on her own (and/or someone else's) desire and need. At a time of great slogans about human freedom, the great global idea about the benefits of the global human family, it seems even a little irresponsible not to scratch the surface of this topic. The legitimacy of this failure is surely to be found in the period determined by the years (from 1850 to 1910), but that can not erase the impression that the Musée d'Orsay decided to be a tabula rasa when it comes to the essence of the exhibition. Maybe it is not on them to advocate for human rights you might think to yourselves and you won't be totally wrong. However, the impression remains similar to that in which the striker being alone in front of the goal satisfies with the instant standing ovation of the public but finally does not score. Why d'Orsay did not dare to call out those who still allow legal prostitution? Because it is one of the largest museums in Paris, and Paris is still the heart of the French prostitution which is legal and regulated. Why the Musée d'Orsay made an entertainment show out of tragic theme in which the dignity of women is completely neglected? Maybe because they only wanted to document certain phenomenon of specific period? The institutions should not impose opinions but we need them to stand up to defend universal values! It seems to me that the answer is not far away from the following conclusion: because everyone loves entertaining shows (everyone multiplied by 11 euro equals a lot of money).
What about a purpose, what about an objective?
In itself, each exhibition is called to be an art. As such, it does not imply only exhibited works, it is an act that includes in his genealogy the historical and critical art aspects united in a certain area, the psychology of perception and finally the voice of curators and artists. Besides, the exhibition is not only a pure discourse nor a pure context. Moreover, it unites perception and knowledge into action in order to achieve a dialogue with the observer. If we observe it that way, we can conclude that this exhibition deprives visitor of consideration of the prostitution as a problem that still implicates countless young women and families, as well as problems tied to it as modern slavery and kidnapping of women from underdeveloped countries of the third world.
The visitor is inserted into the interesting world of Parisian decadence, and nothing of that which is Parisian is alien to him, because everything about Paris is à la mode, all about Paris is simply irresistible because it is fashionable and progressive, positive and open. My aim is not to damage the perfect image you might have of the City of light that used to be my home for a few years, but rather to ask you to discover the part of Paris called Bois de Boulogne in the evening (certainly by car!). You will see prostitution at its peak, perfidious and disparaging, far from the one we see in Amsterdam which at least bothered to put some make-up for the seeming beauty. Here it is brutal and depressing, and as previously noted: regulated and legal. That is why in the end we can only sigh: Musée d'Orsay, if you had only dared just a bit more!
[/tab]
[tab title="Croatian"]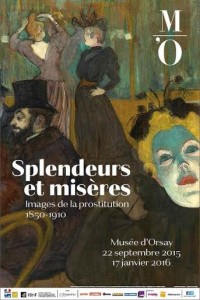 Prostitucija po prvi put na "velikom ekranu" jednog utjecajnog muzeja
"Pariz slavi umjetnost polusvijeta", piše The Guardian, a Independent navodi kako je Musée d' Orsay prvi veliki muzej koji stavlja "prostituciju na pozornicu" i kako francuski kritičari time nisu zadovoljni.
Što to posjetitelji idu konzumirati u novoj kolekciji jesen/zima Musée d'Orsaya? Remek djela Édouarda Maneta, Edgara Degasa, Henria de Toulouse-Lautreca, Edvarda Muncha, Vincenta van Gogha, Keesa Van Dongena, Pabla Picassa i drugih koja prikazuju najintrigantniju i najučestaliju tematiku omiljenu među umjetnicima 19. stoljeća – prostituciju. Bilo da je riječ o slikarima, piscima ili fotografima, ova tema ne ostavlja nikoga ravnodušnim. Neki je samo dokumentiraju kao posve normalan dio pariške svakidašnjice a neki pokazuju njezine izopačene posljedice poput bolesti i osamljenosti.
Od bulevara preko bordela do opera i baleta
Novela Splendeurs et Misères des Courtisanes slavnog Honoréa de Balzaca poslužila je kustosima kao inspiracija za naziv izložbe. Sve počinje na ulicama velegrada koji se krajem 19. stoljeća transformira. Populacija Pariza udvostručila se u samo 20 godina te on postaje središte iz kojeg cvjeta prostitucija. Prvi dio izložbe posvećen je prikazima prostitutki na ulicama. Gustave Flaubert piše oduševljeno o bulevarima naglašavajući kako oči posvuda sjaje u kasnim večernjim satima jer upravo na tim mjestima je "izložena" prostitucija.
Žene prikazane na slikama Jeana Bérauda gotovo se ni po čemu ne razlikuju od pristojnih žena. Njihov suptilni znak kojim su pozivale mušterije je tek lagano podignuta suknja ispod koje su se nazirale čizme. Osim toga, žene prikazane na Degasovim platnima koje piju same u barovima davale su tim činom do znanja da nisu "čestite žene" s obzirom na to da nijedna čestita žena ne bi sjedala u bar bez pratnje muškarca. S bulevara izložba nas uvodi u bordele, takozvane maisons closes u kojim su radile registrirane prostitutke koje su po zakonu bile obvezane na obavljanje redovitih liječničkih pregleda. Onodobno je u Parizu bilo otvoreno 200 takvih kuća. Toulouse-Lautrecovi prikazi najčešći su u ovom dijelu izložbe. Njegove prostitutke su žene koje rade u bordelima i idu na uobičajene preglede kod liječnika kako bi se ustanovilo jesu li zdrave za obavljanje svog posla. One su indiferentne, a slikar ih ne prikazuje kao žrtve već kao obične radnice. Toulouse-Lautrecova djela jedina prikazuju prostitutke izvan radnog vremena i kao takva nameću nam pitanje o njihovom stvarnom identitetu kao i o izvoru razloga zbog kojeg su se našle u ponižavajućem svijetu prostitucije. Uzmemo li u obzir činjenicu da se izložba ne stavlja u poziciju preispitivača prostitucije kao društvene deformacije, navedeno pitanje ostaje jedino koje zaista potiče promatrača na promišljanje.
Iz bordela postepeno ulazimo u crème de la crème društvene ljestvice. Ovdje više nije riječ o prostitutkama, već o kurtizanama koje se ludo provode nakon opera i baleta sa svojim "mecenama". Osim slika i fotografija, izložba obiluje citatima suvremenika koji su ponekad zaprepašteni nemoralnošću sredine u kojoj žive, a ponekad su joj samo prepušteni, prihvaćajući je i izvlačeći koristi iz nje. Tako u citatu slikara Charlesa Maurina vidimo odlučnost u gađenju prema odvratnom baletu koji je zapravo samo "izložba djevojaka koje se prodaju" ("Le ballet est ignoble. C'est une exposition des filles à vendre"). Mondene scene raspojasane aristokracije živo i vjerno je prikazao Edouard Manet na svom platnu Bal masqué à l'Opéra (Maskirni bal u Operi) iz 1873.
Picasso će nešto kasnije (1901.) prostitutkama dati dozu melankolije te prikazati njihovu patnju prouzročenu sifilisom (Beuveuse d'absinth – Žena koja pije apsint, La Mélancolie– Melankolija). Manet je do tada već šokirao javnost svojom monumentalnom Olympiom (1863.), odnosno 17-godišnjom Victorine Meurent koja indiferentno i mirno, gotovo provocirajući gleda promatrača. Između navedenih tematskih jedinica postavljene su prostorije s upozorenjima da je njihov sadržaj neprikladan za mlađe od 18 godina.
Umjetnost ili pornografija?
Priznati se mora, neka od najvećih remek-djela u povijesti umjetnosti, poput spomenute Olympie ili Picassovih Gospođica iz Avignona upravo su prikazi prostitutki. Čemu onda buka i nezadovoljstvo u vodećim francuskim časopisima poput kultnog giganta francuskog novinarstva Le Mondea u kojem čitamo o očajničkom potezu Orsaya? Zbog srezanih budžeta muzej poseže nisko, odnosno za temom seksa ne bi li još brojnijim posjetiteljima, odnosno prodanim kartama, popunio rupu u proračunu. Možda navedena djela i nisu toliko problematična koliko "dodatna oprema" izložbe koja je zabranjena maloljetnicima. Ona posjetitelju pruža mogućnost da kroz simpatična okna soba (u koje se ulazi kroz zavjese od crvenog baršuna) gleda porno filmove nastale prije jednog stoljeća. Fotografima je bilo zabranjeno ulaziti s fotografskom opremom u bordele pa su oni u svojim domovima imitirali scenografiju bordela i uz iskusne modele proizvodili fotografije eksplicitnog sadržaja koji bismo danas bez imalo sumnje strpali u pornografiju da nam slučajno nisu dospjele u vidno polje u jednom muzeju.
 Je li Orsay doista tako jako nisko pao ili su kritičari čistunci koji ga žele prozvati zbog nemoralnih scena kojima šopaju turiste gladne svega što je "pariško"? Pa ako su veliki boulevari i njihova učestala prostitucija kao odraz dekadentnog Pariza na prijelazu Drugog carstva i Belle Epoque fascinirali umjetnike, u čemu je problem ako danas posvećujemo izložbu ovakvim lascivnim temama? Pariz je toliko srastao s prostitucijom da je Baudelaire na svoje pitanje: "Što je umjetnost?" sam sebi odgovorio jednostavno: "Prostitucija". Očigledno je da nije upitna tema, već njezina prezentacija koja je po mnogima prešla granicu umjetnosti i dobrano zakoračila u polje erotike.
Prostitucija je legalna i uobičajena, dakle i normalna društvena pojava?
U svojoj cijelosti ova tematska izložba dokumentira kroz više medija prostituciju kao pojavu koja je u Parizu svojevremeno bila legalna i posve uobičajena. U svojoj neutralnosti ona donosi i prve znakove feminizma odnosno pobune protiv prostitucije, ali prikazuje i scene ilegalne prostitucije među homoseksualcima koja je bila kažnjiva. Ova izložba nažalost ostavlja posve otvorena (ili možda zatvorena) vrata za pitanja poput ljudske naravi čije se dostojanstvo duboko suprotstavlja doživljavanju ljudskog tijela kao predmeta koji se može prodati ovisno o vlastitoj (i/ili tuđoj) želji i potrebi. U vremenu velikih parola o ljudskoj slobodi, velikih globalnih ideja o dobrobiti globalne ljudske obitelji, čini se čak i pomalo neozbiljno ne zagrebati ispod površine ove teme. Legitimitet za ovaj propust može se svakako naći u vremenskoj ograničenosti izložbe, međutim ni to ne može izbrisati dojam da je Orsay ovaj put ostao tabula rasa po pitanju same biti izložbe. Ona nam u svojem nazivu ni ne obećaje biti advokatom ljudskih prava- reći ćete i nećete pogriješiti. Međutim, dojam ostaje sličan onome u kojem je napadač sam pred golom i zadovoljivši se instantnim poklikom tribina, ne zadaje gol. Zašto se Orsay nije usudio prozvati one koje još i danas dopuštaju legalnu prostituciju? Zato što je Orsay jedan od najvećih pariških muzeja, a Pariz je i danas srce francuske prostitucije koja je zakonita i regulirana. Zašto je Orsay od tragične tematike u kojoj se do krajnje granice poništava dostojanstvo žene napravio zabavni show? Zato što je možda htio samo dokumentirati određenu pojavu određenog vremena? Institucije nam ne bi trebale nametati mišljenje, ali zar se ne bi trebale založiti za obranu univerzalnih vrijednosti? Čini mi se da odgovor nije daleko od sljedećeg zaključka: Zato što zabavni show vole svi (a svi pomnoženo s 11 eura jednako je jako puno novaca).
A svrha, a cilj?
Sama po sebi svaka je izložba pozvana biti umjetnost. Kao takva ona ne podrazumijeva samo izložena djela, ona je čin koji u svojoj geneaologiji obuhvaća jednako povijesnoumjetničke i likovnokritičke aspekte ujedinjene u određenom prostoru, psihologiju percepcije i na koncu glas kustosa i umjetnika. Osim toga izložba nije ni samo čisti diskurs niti samo čisti kontekst, već objedinjuje percepciju i znanje u akciji kako bi se ostvario dijalog s promatračem. Ukoliko je promatramo na taj način zaključujemo da je na ovoj izložbi posjetitelj zakinut za promišljanje o prostituciji kao o problemu kojem su izložene bezbrojne mlade žene i obitelji, kao o problemu koji na sebe vuče seksualno ropstvo i otimanje žena iz nerazvijenih zemalja trećeg svijeta. Posjetitelj je ubačen u zanimljiv svijet pariške dekadencije, a sve što je pariško nije nam strano, sve što je pariško je à la mode, sve što je pariško je naprosto neodoljivo, jer je mondeno i napredno, pozitivno i otvoreno. Ne bih vam htjela narušiti sliku Grada svjetla koji je nekoliko godina bio moj dom, već vas samo pozvati da jednom dok budete u Parizu otiđete u predvečerje napraviti đir u Bois de Boulogne (svakako u autu!). Vidjet ćete prostituciju na svom vrhuncu, perfidnu i omalovažavajuću, daleko od one amsterdamske koja se barem potrudila staviti make-up za prividnu ljepotu. Ona je ovdje sirova i tužna i kako smo već napomenuli: regulirana i zakonita. Upravo zato na koncu možemo samo uzdahnuti: Musée d'Orsay, da ste se barem malo više usudili!
[/tab]
[/tabs]
Written by Anita Ruso from WYA Croatia Chapter.