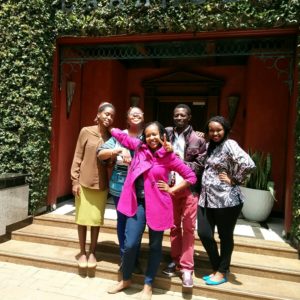 What does it really mean to affirm another person's worth? To what extent is this applicable? WYA's mission is one that has required me to completely look at the world afresh. I have been exposed to the fact that truly our lives as human beings are so intertwined. I have also grasped how really the human person is at the center of all aspects of life. Just like so many other young people, I joined WYA because I have this intense belief that we together can save our world.
As regional program assistant, I have been interacting a lot with the girls at Kenya High School during the WYA club meetings, and whenever we have new members they always ask whether or not this is a club for only people who want to work 'with The UN'. This is one of my favorite questions to answer, because once I elaborate that no matter what career these girls may aspire to venture into, they will realize that they are working with and for human beings. I go on to talk about how the engineer creates structures that are used by humans, the doctor treats human patients, and the hairdresser deals with human clients and so on. I treasure the one hour I am able to interact with these young minds, because they inspire me to do more, to be more. They have so much zeal to finish school and venture out into the world to pursue their passions.
Their innocence reminds me a lot about who I was when I was in high school. I think back to my experience with the certified training program, and how every time I interact with it I feel more conviction to have more people transformed by it. I think about some of the articles that really resonated with me, like C.S. Lewis' "On Men Without Chests" for instance, George Weigel's writing on freedom, and Victor Frankl's profound narration of his experiences at the concentration camp. Human beings have so much potential. We can literally survive even through what we may consider our worst ordeals by sharing hope and strength with each other. Chapter 4 of the CTP is on solidarity, and it opens with a quote that describes solidarity as 'carrying another person's burden'. The themes in the CTP have a resounding connection to one another, and thus carry the true narrative of who we are as human beings and the different components of our lives. I am a completely different person because of the influence of these readings.
I will finish this blog by writing that before I interned at WYA, expressing myself creatively in a paragraph would have taken me hours. Through the internship program and the opportunity to write for the WYA blog, my ability to do this has greatly improved. This is just one of the many things I have grown in so far, and I am so grateful for this platform. I have big dreams for WYA and it's so comforting to know that I am not alone in this journey.
Written by Cynthia Maingi, WYA Africa Regional Program Assistant