There is no doubt that Anna Halpine has served as an inspiration not only to the youth but also to the people around the world, especially me. My name is Reese Fariñas and I'm an outgoing Chapter President of the Miriam College High School Chapter in the Philippines. I'd like to share with you how much the organization shaped me to who I am today.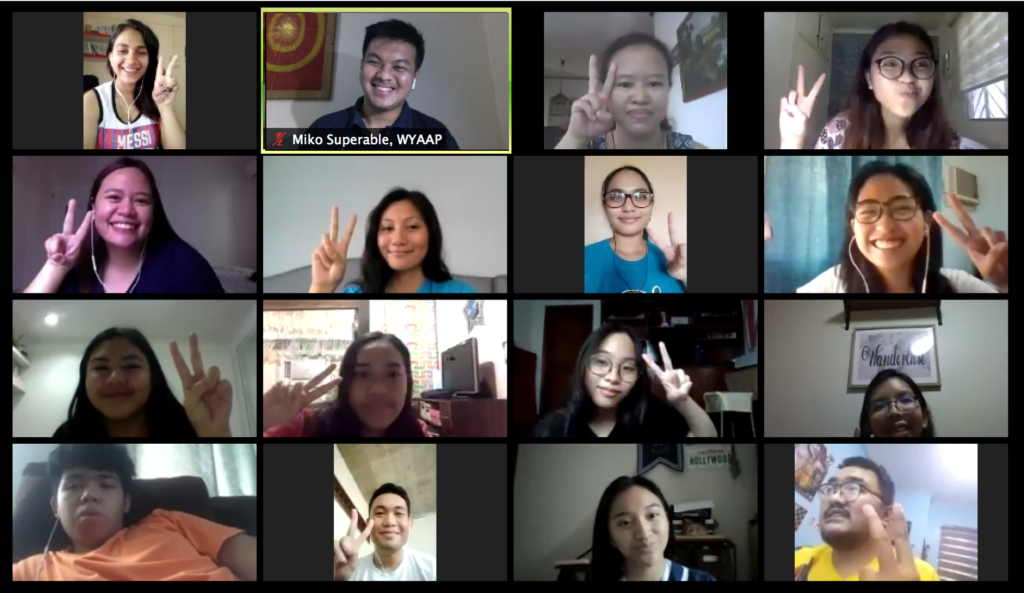 Reese with her Online CTP class conducted by the WYAAP Staff
When I entered high school, I was able to learn about the World Youth Alliance and their advocacy from my upperclassmen. Upon hearing the word 'human dignity' in the orientation, I was surprised with the fact that I did not know what it actually meant, especially because I was already in high school. Learning about the mission and vision of the World Youth Alliance sparked a flame inside me to want to be part of this global coalition. As I became participative in the high school chapter, I became more aware of the concept of human dignity. I realized the importance of seeing individuals in a perspective that has a much deeper meaning. Recognizing that a person has inherent, intrinsic, and inviolable human dignity teaches us how to be more understanding, patient, and kind—or simply, humane.
As the chapter's secretary from 2018-2019, we were able to launch some programs to help make the organization known in our school. The events we had were only done on school grounds and were mostly for organization members only, but then again, there will always be shortcomings and unfulfilled plans. Once I was chosen to be the chapter president for the year 2019-2020, I was more than excited and determined to create different events or activities to not only further make the organization's presence known but to also educate and reach out to people outside the organization—from teachers, other schoolmates, outsiders, and even adults. In December 2019, we were able to hold the chapter's first ever Christmas concert fundraiser entitled "Diwata: Binabalik Ang Hiwaga sa Pasko (or in English, Muse/Fairy: Bringing Back the Magic in Christmas)" in which we invited different musicians and artists to share their works in line with the theme of human dignity and the appreciation of human life itself. Personally, the most rewarding moment from the event was seeing everyone smiling and enjoying themselves as they shared this joyful and peaceful atmosphere. I believe that that is how goodness should be spread too. As the end of the school year approached, and the sudden emergence of the SARS-CoV-2 virus, our journey ended with our Christmas concert being our last event. Because of this, I convinced myself that this would not be the end of my journey as a member of the World Youth Alliance. I knew it in myself that I had more to give, learn, and teach.
When the Asia Pacific regional office announced that they would be holding an online Certified Training Program (CTP), I was more than interested to join, and so I decided to invite my fellow officers and members in the chapter to enroll too. The Certified Training Program was definitely extensive, but overall, it was really enlightening and rewarding. With the guidance of my CTP trainers (Miko Superable and Joyce Cedeno), the readings in each chapter opened my eyes as I gained a deeper understanding of human dignity and how it has been disregarded throughout history. Learning the concepts in the CTP was more than timely for me and my fellow Filipinos as our country faced multiple unfortunate news brought by the decisions of our government. Moreover, after taking it, our chapter was able to create an avenue for the youth to express themselves through testimonies regarding recent issues in the country. Examples of the issues tackled were freedom of speech and sexual harassment. Personally, the CTP changed how I view and interact with people and how I should think and act every day, especially when I witness injustice. It was truly a blessing to have learned about this and I believe it is important to share this with the youth for us to reshape humanity.
Learning about human dignity helped me stand up for the rights of the people and, at the same time, respect, understand, and care more for the people around me. The COVID-19 pandemic indubitably destroyed the lives of many in various ways. It has deprived us of the outside world, threatened the economy (especially the labor force), shifted means of communication from physical interactions to LCD screens, and has taken the lives of many. Amidst this pandemic, it is important for us to think about what is important–the person. Throughout the CTP, I believe that the most important lesson I learned was that we have to prioritize the human person. We can do this by recognizing that a person has human dignity or, in simpler terms, worth. It is present from the moment of conception, and every single person has it. It cannot be taken away or violated. A person–no matter the gender, race, status, or age–is just like any other person who has dignity. To treat someone else equally as a human being like ourselves is a step to building a just, free, and peaceful society. It all begins with oneself, and from there, one can influence others to think the same. I believe that the concept of human dignity should be taught to all children for them to have a holistic development into growing to be a fair-minded and caring person. By creating a culture built on respect and compassion for others, we will achieve a better and more peaceful world.
With all this, I would like to extend my deepest gratitude to Anna Halpine and all founding members of WYA for creating an organization that would surely make the world a better place. Anna was a huge inspiration to me ever since I learned about her story in the Cairo +5 Conference in 1999 as she stood up for the rights of the youth and made us heard. Throughout my WYA journey, I have started to believe that human dignity is the most valuable thing to learn in life. By letting the concept of human dignity be known, people will learn how to respect and love each other and erase the thoughts of hatred, anger, and greed. Through the efforts of WYA's founding members, they have created a symbol for the youth to rise and take action against injustice. I hope to be able to share in the mission to educate people on human dignity too.
I hope that WYA prevails in pursuing their mission to share their knowledge and advocacy with the rest of the world. In the continuance of this mission, the World Youth Alliance will be able to grow to have a bigger family of defenders of human dignity.
---
Published: August 8, 2020
Written by Reese Fariñas, the outgoing Chapter leader of WYA MCHS Chapter
Want to experience the Certified Training Program? Sign up now here.