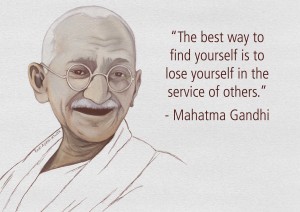 I have always been a person with great concern for social justice, so the mere thought of joining certain organizations that take action towards these causes never fail to excite me. That's why when I heard about WYAAP and that they were looking for an intern with a graphic design background, I immediately took that opportunity and applied.
I saw this internship as a chance for me not only to grow professionally, but also to help me exercise my compassion for the human race and expand my understanding of the world. I proved myself right!
I discovered a "deeper purpose" in my life after having gone through the different trainings and lectures about WYA's mission and its advocacies.  With a much wider perspective on things, I realized that there is something more fulfilling than just following one's passion, and that is to defend human dignity.
"Why do you create art?" was one of the questions that I received during our lecture on the chapter on culture of the Track A Training.
I answered, "I create art because it helps me express myself more – my sense of style based on what I perceive beauty is." The instructor nodded, but also suggested that it would be much better if we also created art with a purpose outside our own.
The readings in that chapter gave us a deeper understanding of this. These artists indeed inspired me not only because of their unique and incredible talent of art making but also, because of how they have used their skill to benefit the society.
I  knew at that moment that I wanted to do the same. I know I can do something to help solve their issues through creating powerful advocacy campaigns that will make people stop and think. More than just an artist who seeks to express his talent, I also want to be known as an artist who raises social awareness.
You too, regardless of your chosen career, can do something more fulfilling – something that will change people's lives!
For example, while doing some research on advocacies I can share my skills to, came across a group of young people- artists, entrepreneurs, designers-  who made use of their resources to start a business making weather-resistant backpacks called "Taclob bags," employing the survivors of Typhoon Haiyan in Tacloban, Philippines. They saw this as an opportunity to help rebuild the lives of these people by creating jobs for them.
For me, fulfillment is not a matter of doing what you're passionate about or what you're good at. It's about knowing how to make use of your talent to make the world a better place. It's not what you can do for yourself to make yourself happy, it's what you can do to others that will make them happy.
As Mahatma Gandhi said, "The best way to find yourself is to lose yourself in the service of others."
By Kean Ayunan, batch two intern from WYA Asia Pacific.