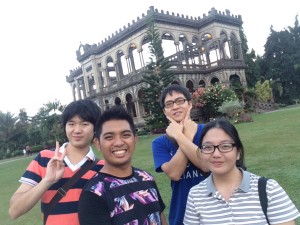 Hello WYA members from around the world! My name is Kento and I am from Japan.
It has been a little over four weeks since I came to Manila and the experience has been very wonderful so far.  Last summer I visited Indonesia and Thailand, and I thought it was going to be the same experience here but I was wrong. I think my experience here has been more exciting mainly because I am here for work/internship and I see the country not just from a traveler's point of view.
Here I've learned so much about cooperation and working with different types of people. I've also learned to ask when there are things I don't understand. This internship has also given me the opportunity talk about leadership to university and high school students. It was my first time then to talk in English about leadership in front of 200 students!
But I think the most important lesson I learned because of this internship is that we cannot talk about something without having experienced it ourselves. By being able to interact with people from other cultures, I gained a deeper understanding of something that I had just previously read about. I developed a different way of thinking, and it also helped me learn more about myself. This realization made me pay attention to others and make the effort to understand the others.
I know that this awareness will be essential in the future, and I want to thank WYA and those I met in Philippines.
By Kento Morie, an international intern at the WYA Asia Pacific office. To learn more about our internship program, you may visit this page.