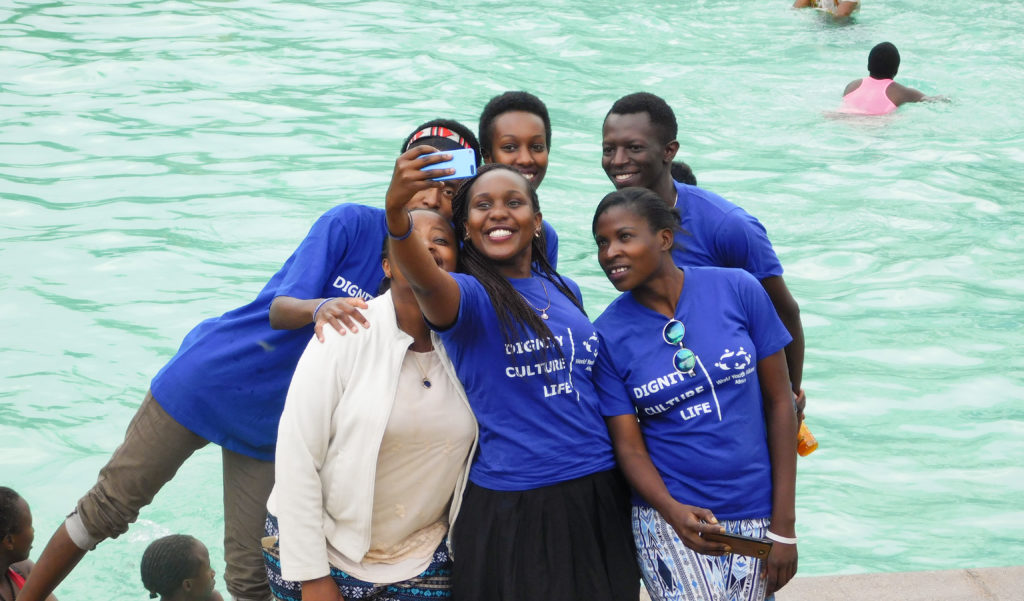 For most young people, being in a work environment is synonymous to foregoing fun and being dictated to do what you do not want at particular times. This makes most of us youth dread the idea of being in an office setting especially, before we adapt to that kind of life or routine. Many do not want to be in suits and ties all day, others do not want to be 'all professional' in their speech, dress and manner throughout the day, others are concerned about missing on hanging out with their friends and have anxiety on how to interact with their colleagues.
Personally, my previous work experience has never been in an office setting all day. I did work from home and went to the office occasionally to hand in my weekly report or attend assessment meetings or any other meeting when called for. Anxiety and fear started cropping up as I did not know how I am going to deal with staying in an office setting all day and interacting with my colleagues. I braced myself, however, thanks to the world we are living in where everything and anything is only a search away. I did search, just like any other person who is always looking to know things beforehand, how office operations are and also how to interact with other people in that setting just to get a picture of what I should expect.
WYA however changed my perspective on how the office setting is. First, I was surprised that everyone in my office is a young person and that would therefore make it easy for us to interact. In getting to know each other, one of the first exercises was going through an online personality type test and this made it easy for us to know how to interact with one another in different situations. This really amazed me as it made me realize that at WYA efforts are put in place to understand and accommodate each individual. Meeting one of the most passionate people I've come across, especially our RPA who really dreams of having a better world by always saying, "It's up to each and every individual to make that happen", made me feel that I am finally home and that I am going to enjoy my stay at WYA.
I had never understood the concept of dignity the way I did understand it until I joined WYA. My definition of dignity was no more than values that a person had of themselves. The issue of it being intrinsic and inviolable in every human person as taught by WYA never came to my mind. Interactions in our office were not what I expected to get when I applied for the internship. My expectations always made me fret this new experience I was to have. The Certified Training Program (CTP) in its philosophical text and context was made easier by the Wednesday discussion which were always fun and lively with different people expressing their different understanding of the content. The White Paper discussions in the garden were also full of interactions that made it even more enjoyable. Birthday surprises are a common thing in our office and people show love to one another genuinely.
The WYA internship has given me the opportunity to continue working on my professional life without forgetting that my social life is also very important. In promoting the dignity of the human person, WYA believes in equality between every human person. "Charity begins at home" as the saying goes. This has been proven by the selfless staff at our regional offices who have been all kind to us and making our stay comfortable. Delegating and entrusting us with various tasks have enabled us to have a firsthand experience, especially on project management. This has been really proven from the beginning of our dignity projects and being allowed to manage everything from the start.
Since joining WYA, my interactions and arguments even out of the office have been influenced by the knowledge I have acquired from the CTP readings and the White Papers. I feel that it is my responsibility to share this with those who have not come across it as one who has been privileged to have acquired this knowledge since it is a universal responsibility for all of us to make this world a better place.
Coming to the end of my internship, my perspective of the work place has really changed thanks to WYA and this has prompted me to bring the best out of myself in every place I go. This change of perspective has also been influenced by a reading from Josef Pieper in the CTP on work, spare time and leisure.
Written by Joseph Atulo, a Batch 1 2018 intern at the WYA Africa regional office.