[su_tabs active="2″] [su_tab title="English"]
On Monday the 30st of March, World Youth Alliance held his first ever Global Zoomba Solidarity call. It was hosted by WYA Viktor Frankl Awardees, Rogin from Philippines and Wangeci from Kenya.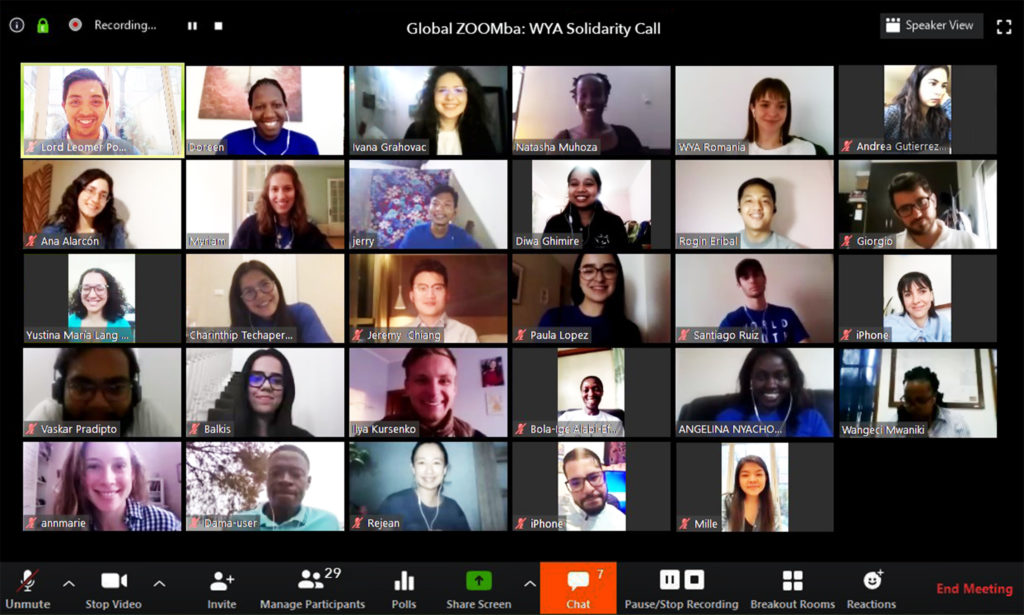 Around 30 young certified members and leaders from the World Youth Alliance community took part in the call. This event gathered lots of different nationalities, people from Kenya, Philippines, Romania, Albania, France, Paraguay, Dominican Republic, Trinidad and Tobago and many others joined the WYA Solidarity call. During the call, we had some performances from participants, including dancing, musicians playing, poetry readings. We also enjoyed presenting and getting to know each other to reinforce collaboration between the World Youth Alliance different chapters and regional offices. I think some great projects and friendships have been started at the Global Zoomba conference. Moreover, we had the great opportunity to hear from a FEMM member who is a doctor in New York City and gave us some highlights about how complex the situation is in hospitals regarding the Covid-19. We finally decided to record a short video of this very first ever Global Zoomba World Youth Alliance Solidarity Call, in which we all took part by testifying our support and gratefulness to all the people in the frontlines of the Covid-19 crisis in our own languages.
I personally would like to thank the World Youth Alliance for giving me this great opportunity and show us that Solidarity goes beyond boarders and as we learn doing the Certified Training Program, « Solidarity is a manifestation of human dignity. In solidarity, each person uses his personal freedom to join others in the pursuit of a common good. »
[/su_tab]
[su_tab title="French"]
Lundi 30 mars dernier, World Youth Alliance a tenu son tout premier Global Zoomba WYA Solidarity call. Une conférence en ligne, présidée par les lauréats World Youth Alliance du prix Viktor Frankl, Rogin des Philippines et Wangeci du Kenya.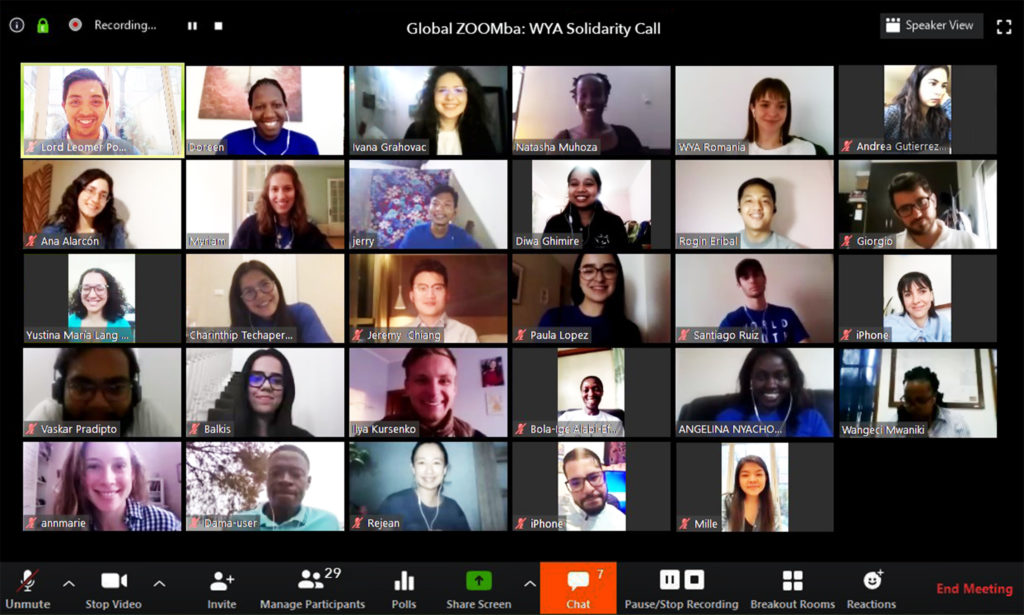 Environ 30 jeunes membres certifiés et leaders de la communauté mondiale de World Youth Alliance ont participé à l'appel. Cet événement a réuni beaucoup de nationalités différentes, des jeunes du Kenya, des Philippines, de Roumanie, d'Albanie, de France, du Paraguay, de la République dominicaine, de Trinidad et Tobago et de bien d'autres pays ont rejoint le WYA Solidarity call. Pendant cet événement en ligne, certains participants ont présenté leurs talents, tels que la danse, des performances musicales mais également la réalisation et la lecture de poésie. Nous avons également pu se présenter et apprécier faire connaissance pour souligner et renforcer les collaborations existantes et à venir entre les différents chapitres de World Youth Alliance et les sièges régionaux. Je pense que de beaux projets et de belles amitiés vont naître grâce à la conférence Global Zoomba. Par ailleurs, nous avons eu la chance d'écouter une membre de notre association partenaire FEMM, elle est docteur dans un hôpital à New York City et nous a informé professionnellement de la situation complexe, parfois alarmante des hôpitaux et du Covid-19. Finalement, nous avons décidé d'enregistrer une courte vidéo de ce tout premier événement Global Zoomba World Youth Alliance Solidarity Call, à laquelle nous avons tous participé, en témoignant de notre soutien et reconnaissance envers toutes les personnes qui combattent et aident au quotidien à l'éradication du Covid-19 dans nos langues maternelles.
Personnellement, je souhaiterais remercier World Youth Alliance de m'avoir donné cette belle opportunité et pour nous avoir montré que la Solidarité dépasse les frontières, comme nous l'apprend également le Certified Training Program, « Solidarity is a manifestation of human dignity. In solidarity, each person uses his personal freedom to join others in the pursuit of a common good. »
[/su_tab]
[/su_tabs]
[su_divider top="no" size="1″]
Published: April 3, 2020
Written by Myriam Audras, WYA France chapter coordinator
Ecrit par Myriam Audras, coordinateur de chapitre WYA France