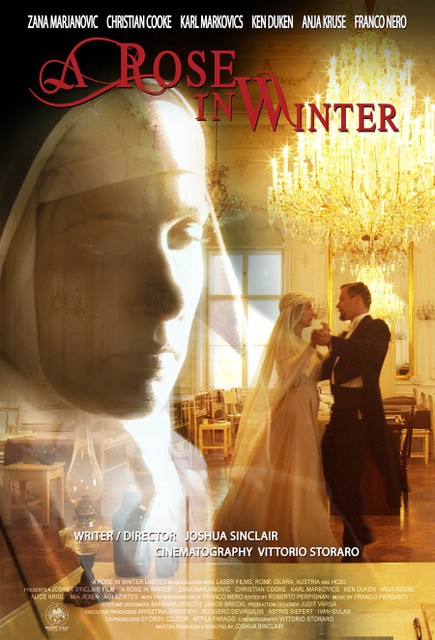 3 January 2019, Brussels, Belgium – On Tuesday evening, the WYA Brussels team was invited to the movie premier of Joshua Sinclair's "A Rose in Winter" in Brussels's European Parliament.
Starting with a little introduction by the organiser and host of the event, Austrian MEP Lukas Mandl, our staff had the opportunity to watch the movie and to have a Q&A session with two of the main actresses and with the movie director Joshua Sinclair.
"A Rose in Winter" is a film biography of the Edith Stein. Born in a Jewish family in 1891 in Breslau, she died as a Catholic nun in the concentration camp of Auschwitz on the 9th of August 1942.
Edith Stein was an extraordinary woman who advocated for women's rights at the onset of National Socialism in Germany, and as a Catholic nun, she stood up for her Jewish identity, leading to her martyrdom in Auschwitz. Besides her selfless and strong character, the movie focused on describing the women instead of the saint: women who loved, cried and struggled in search of a deeper value of human life.
As Joshua Sinclair himself claimed, the movie is about a woman who should be an example to every woman and every girl outside. The actress playing Edith, Zana Marjanovic, was a refugee herself who had to move from her home in Bosnia Herzegovina to the U.S.A. during the Bosnian War in the early nineties.
Actress Anja Kruse, playing Edith's mother, quoted the Buddhism belief "Many Bodies, One Mind" to describe the identity of Edith Stein. Edith was born in a Jewish family and still found her way to the Catholic Church, even without her mother's approval. When it comes to Hitler's announcements and to the first racial laws, Edith Stein immediately decides to stand firm for her people, even though realising the consequences of her acts.
In our world, globalisation is rising steady and the population movement caused by war, political repression and economic crisis is growing. As a result, we experience the coexistence of people having different ethnic and cultural backgrounds. These situations frequently lead to mutual strangeness, manifested through discrimination and fear.
The movie broaches the issue of antisemitism, which is still happening nowadays. Unfortunately, it may seem that we have not learned enough from the dark years of the last century.
It is still possible to develop such a hatred for foreigners without a trace of respect for their human dignity. The important value of solidarity must be upheld to allow a living together in a free and just society. If one hates the other only for his ethnicity and culture, how could we ever value the intrinsic value of our neighbours?
Edith Stein was "A Rose in Winter", a pure voice in those cold and dark times. She believed in the dignity and in freedom for all human beings, until her end. She sacrificed her life for this cause, and her actions persist as an example to us.