September 25, 2020, Zoom, MENA – World Youth Alliance Middle East (WYAME) holds its first-ever online Certified Members Get Together
through Zoom.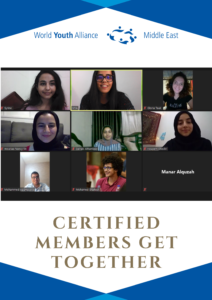 Since the pandemic, the Middle East office has been mobilizing its efforts to bring more WYA members together online, including our Certified Members. The latter successful participants of the Certified Training Program, (CTP) a high-level professional training program for WYA members. The CTP formerly known as Track A, is the collection of texts that provide the philosophical underpinnings for the mission of WYA. It presents a summary of philosophical, historical, and modern-day texts that focus on the dignity of the person and human rights. Those who complete the CTP are equipped to articulate and defend the principles of the dignity of the person within the public square. The program is free and is open to all members of the World Youth Alliance. It is a pre-requisite for participation in many of the programs of WYA (internships, specialized conferences, advocacy work).
The online meeting, led by WYAME Program Officer, Balkis Chaabane, and assisted by our Regional Online Interns, Moutiaa Gouaida and Syrine Saada, served to connect WYA Certified Members online to get to know each other, learn about WYAME updates & news, share thoughts on how to move forward, and stand in solidarity despite what our world is going through.
More than a mere get together, the session served as a reminder of the impact of the CTP in the lives of all WYAME members, namely certified members, and their commitment to bringing the same significant experiences to WYA potential certified members throughout the Middle East & North Africa region.
The WYAME office is now accepting applications for next year's training batch. Visit: wya.net/ctp to apply. For questions, please email middleeast@wya.net