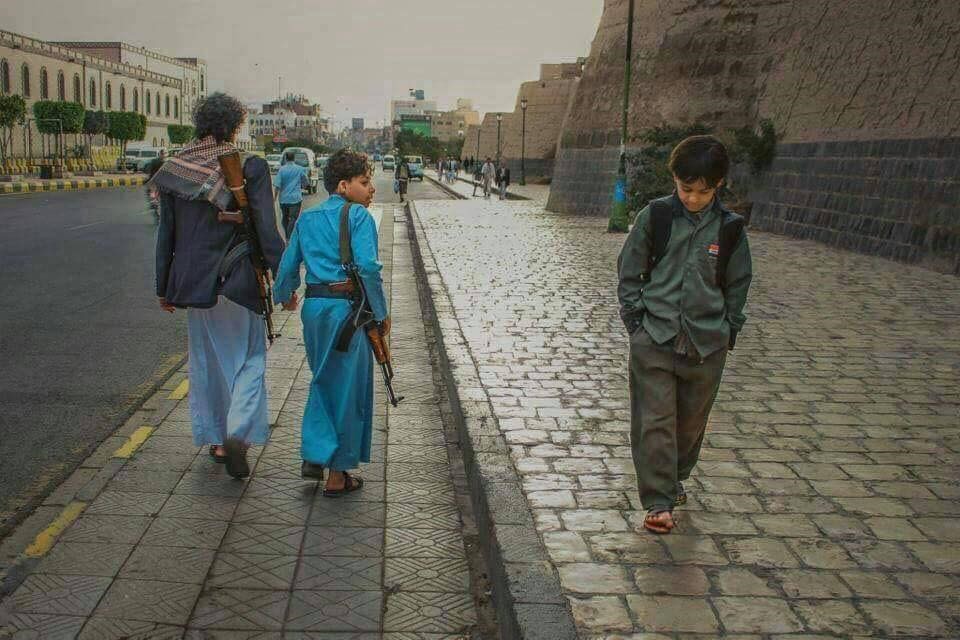 "In 1999, the first resolution on children and armed conflict adopted by the UN Security Council condemned six grave violations affecting children: recruitment and use of children during conflict is one of them. In Yemen, 2122 children recruitments verified so far."
This was a tweet I came across written by the UNICEF Resident Representative in Yemen. An image of young Yemeni children between the age of 12 and 16 with guns and rifles strapped on their sides manning a checkpoint immediately flashed through my mind. I recall until this very moment how utterly heart aching it is to see these children every time I pass by a security checkpoint in Sanaa, the capital city of Yemen. I find my head filled with hundreds of questions, questions with no answers. Where is this country headed to? How are things going to get better? Are they going to get better? For a moment, all hopes for a better and prosperous future fade away.
Yemen, the Arab's world poorest country, was already facing years of political and economic instability. The outbreak of war in March 2015 accelerated the deteriorating living conditions in the country leaving millions of people in need of basic necessities to survive. It is now facing the world's worst humanitarian crisis.
Unfortunately, children, the most vulnerable group of the society, are heavily affected by this conflict. As a result of poverty, lack of governance, and closure of schools, the number of children used and recruited in armed conflicts, which was already high over the past years, skyrocketed since the war erupted. Millions of children are starving with no access to shelter, clean water, and food. This makes a motivating factor for them to join the armed forces and put their lives on the line to survive. Holding weapons becomes their ticket to a meal. It is a mean of survival for them and their families. Moreover, schools in Yemen are now at its worst conditions. Hundreds of schools are destroyed and turned into shelters for displaced people while many others stopped operating as a result of the strikes by teachers who demanded their salaries that were suspended for over a year. This deprives students from education making them at risk of joining armed forces to fight.
The problem of child recruitment in Yemen is not only a problem of economic and political instability. It is a problem of culture. Children holding weapons at the age of 15 or 16 is considered a sign of manhood. This culture completely robs children of their childhood. They become victims of many forms of exploitations and live in conditions that threaten their lives. This reflects the little value being placed on the life of a child and his dignity. The Convention on the Rights of the Child (CRC) holds a strong message that calls for nations to uphold the dignity of the child. It condemns any attempts of humiliating and disrespecting the child as a human being. But why are these right not being respected?
Our goal should not only focus on eradicating the problem. The means through which the outcomes are achieved is also very significant. If dignity and the worth of the person are not being respected, then we need to re-interpret what it means to be human. A sense of dignity among us should be awakened in order to achieve human development. Only then, will fundamental changes occur in the way we see human beings and the world we live in.
Written by Afnan Shamsan, a current intern from Yemen at the WYA Middle East office.