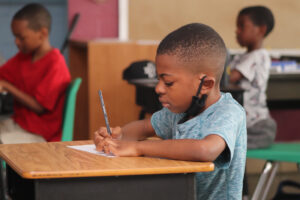 This summer, the Youth Leadership Foundation (YLF), a non-profit based in Washington DC, is implementing the Human Dignity Curriculum (HDC) in its "character classes" for its 2022 summer programs.
YLF levels the playing field for students to achieve academic success and serves youth in concentrated areas of disadvantage throughout the DC area.
Throughout the school year, the organization serves about 350 students grades 3-8 through its afterschool and summer programs including their Mentor+ program, which builds personal resilience through mentorship and challenging recreational excursions.
YLF also provides a distinct summer program for high schoolers, called the Virtuous Leadership Academy, which features a business plan competition. "Throughout our summer programs, we do character formation classes and one-on-one mentorship as well," shares Krista Keil, the Director of Character and Mentorship at YLF.
In its previous summer programs, YLF used its own character curriculum, but this summer, the organization partnered with World Youth Alliance (WYA) to offer the HDC as part of its character curriculum for students grades 3-12.
Krista is responsible for the integration and implementation of the HDC at YLF. She first heard about WYA through WYA Director Siobhan Heekin-Canedy at the 2021 GIVEN Forum and collaborated with her throughout the school year leading up to the summer program.
"We talked about a theme that kept coming from YLF students," Krista says. "That theme was the search for identity. The HDC helps students understand how dignity is essential in developing a healthy concept of identity…it really meshes with what we are trying to do at YLF and the needs we were seeing from our students."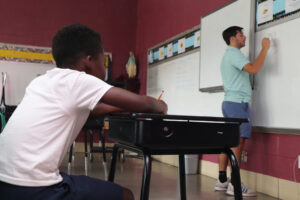 WYA just recently launched its HDC grades 9-12, which covers the core themes of human dignity: violations against human dignity (grade 9), human dignity as the foundation of human rights (grade 10), human dignity as the necessary foundation of every political community (grade 11), and international human rights violations (grade 12).
"One of the appeals of WYAs curriculum is that it's built to adapt with each grade level, which really fits our needs," Krista says, "We have students that come back every year, and so we don't want to give them the exact same curriculum. To have a curriculum that advances with them is a major advantage."
Krista also liked that the HDC "teaches critical thinking skills and how to apply the lessons to daily life."
The Character leads for YLFs summer programming, Tuvié Onotu (PALS program) and Alex Price (TAP program), taught the HDC to YLF students and shared their thoughts on the curriculum and how students applied its contents in daily life.
"I loved seeing students apply the contents of the HDC through their interactions with the faculty and other students," Tuvié says, "Some students would share moments when they remembered things like human dignity when dealing with their siblings at home. They also began using critical thinking skills when responding to conflicting situations."
Alex shared how the students applied the HDC to solve problems that would arise in the classroom. "We often worked together using our powers to think and to choose to come up with solutions for disgruntled emotions and frustration. By the end of camp, students were echoing the sentiment that each of their classmates–whether right or wrong–are human beings deserving of respect."
About 90 percent of students say that YLF is life-changing. WYA hopes that with programs like the HDC, YLF will continue to help change the lives of young people through character building and living a life of excellence as they discover their identity and live it resiliently.
YLF served 110 students in grades 3-8 and 20 high school students this summer. When asked if YLF will continue to use the HDC in their summer programs, Krista remarked, "Definitely, for the foreseeable future…Yes!"
Want to use the HDC in your school or organization? Visit our HDC website to learn more about the curriculum!