55th Commission on the Status of Women | February 22, 2011
It is well acknowledged that women suffer many indignities: discrimination, violence, poverty, sexual exploitation, lack of access to basic services etc. The World Youth Alliance supports the work of the Commission on the Status of Women and its efforts to promote and empower women and girl children. The education of women is fundamental to their empowerment and integral to achieving sustained development. Millennium Development Goal 2 insists on the importance of education and the need for equal access for both boys and girls. (1)
The World Youth Alliance recognizes that all persons have an intrinsic dignity; it is this dignity that provides the basis for all human rights. We recognize that all persons are equal in dignity regardless of sex, race, culture or creed and this equality demands equal participation in the development process especially access to education. Equal access to education for women and girls is the only proper response to their dignity as persons.
Women are empowered when they are recognized as being equal in value to men and are given the tools and means to develop their unique and unrepeatable gifts and talents. The ICPD recognizes that, "education is one of the most important means of empowering women with the knowledge, skills and self-confidence necessary to participate fully in the development process."(2) Unfortunately, p
overty, undernourishment and unemployment are the primary factors that prevent girls from finishing primary school.(3) As stated by the UNFPA, investing in girls' education is one of the most effective ways to reduce poverty.
The education of women and girls also has implications for women's health. Discrimination against women and girls is often coupled with forced marriage and early sexual debut, whether consensual or by violence. Forced marriage, as well as early sexual debut, hampers girls' access to education.(4) Forced marriage and early sexual debut, as well as other risky sexual behaviours, are linked to both poverty and discrimination, as well as to lack of information and informed consent. Educational programs that highlight the dignity of women and girls must emphasize a knowledge-based approach that encourages and enables women to avoid risky sexual behaviours and to have healthy long-term reproductive health outcomes.
The empowerment and advancement of women by means of education is crucial to authentic development. We recognize that human dignity is the only foundation on which appropriate and holistic programs and policies can be developed. Women's equal access to education, and the development of knowledge-based reproductive health programs is not only critical to achieving authentic and sustainable development, but more importantly, is fitting to their dignity as persons.
(1) Millenium Development Goals
(2) ICPD Programme of Action, paragraph 4.2
(3) United Nations Development Programme Report – What will it take to achieve the Millennium Development Goals, 2010. (Key messages, Synergies between MDG goals (second paragraph), 3.2 Primary Education); Paragraph 14.1 and 14.2 of Commission on the Status of the Women Report on the 51st session.
(4) Commission on the Status of the Women Report on the 51st session. (Norms and Policies and 14th statement)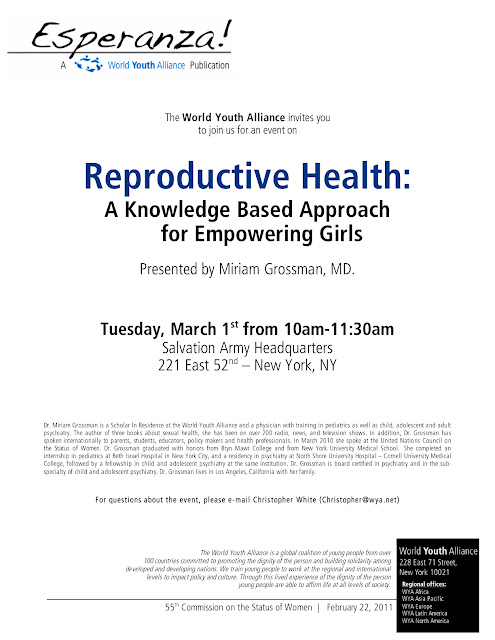 Dr. Miriam Grossman is a Scholar In Residence at the World Youth Alliance and a physician with training in pediatrics as well as child, adolescent and adult psychiatry. The author of three books about sexual health, she has been on over 200 radio, news, and television shows. In addition, Dr. Grossman has spoken internationally to parents, students, educators, policy makers and health professionals. In March 2010 she spoke at the United Nations Council on the Status of Women. Dr. Grossman graduated with honors from Bryn Mawr College and from New York University Medical School. She completed an internship in pediatrics at Beth Israel Hospital in New York City, and a residency in psychiatry at North Shore University Hospital – Cornell University Medical College, followed by a
fellowship in child and adolescent psychiatry at the same institution. Dr. Grossman is board certified in psychiatry and in the sub-specialty of child and adolescent psychiatry. Dr. Grossman lives in Los Angeles, 
California with her family.
For questions about the event, please e-mail Christopher White (Christopher@wya.net)