"In the famous 'Pink Flyer' that was the birth of WYA, one of the main concerns was issues related to education and development. If all countries get this education foundation right, we will raise a generation of youth who stand up for truth."

– Hannah Moturi,


PINK FLYER GIVING SOCIETY MEMBER
Hannah Moturi (Kenya) first heard about WYA through a friend back in 2007. She was struck by WYA's mission to stand up for the truth about the human person and became a WYA intern at the Africa office that year. She also interned at WYA's New York office in 2009 and was Regional Director of WYA Africa from 2013-2016.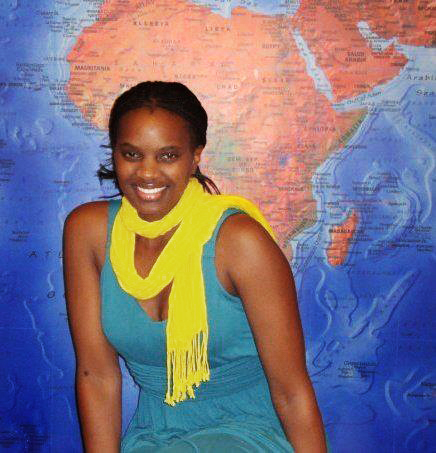 Issues in society, such as access to quality education and opportunities for impoverished children and youth, move Hannah. She wanted to do something to solve these issues but wasn't sure how until she found WYA! "Through WYA, I learned how policies are formulated, how they shape society, and how I can use my small voice to speak out on issues from a knowledge point of view," Hannah says. 
Since joining WYA, Hannah has used her voice to represent youth in different policy spaces across the world. Her work at WYA to protect the dignity of the human person includes bringing youth together through WYA's programs, such as the Certified Training Program (CTP) and the Human Dignity Curriculum (HDC). Other achievements include partnering with the Safaricom Michael Joseph Center to host the Africa Arts Forum (which has had a running collaboration with WYA Africa), representing the voice of youth through WYA at the World AIDS Conference in Vienna, Austria, in 2010, and talking about the role of youth in policy spaces on Radio Netherlands together with the then WYA Europe Regional Director.
"WYA has helped me become more aware of policy-related issues and their impact on us now and for generations to come," Hannah shares, "Now more than ever, human beings are treated like commodities. And through the impact WYA has made on my life, my work now–whether through policies or social media–is always filtered through a lens that focuses on the dignity of each human person."
Hannah became a Pink Flyer Giving Society member after her term as regional director of WYA Africa. She believes a small monthly donation goes a long way in spreading WYA's message and impacting more young people who will bring change in their families and society for a better world. "No donation is too small or too big to further the work of WYA. You can make a change by giving as little or as much as you can."
It's WYA's 24th birthday! Join the celebration and help further WYA's mission to protect the dignity of the human person by becoming a member of the Pink Flyer Giving Society!