"The study of living organisms."
This is what defines Biology. I have devoted myself into specializing in this field the moment I got accepted into the 5-year course at the Ateneo de Manila University. I was ready to immerse myself in books and offer myself to service – a sacrifice that is rendered the moment one decides to enter the world of medicine.
The first t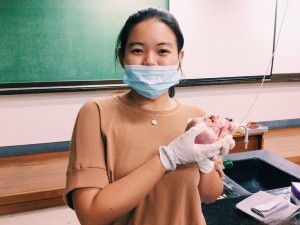 hree years resembled somewhat of a roller coaster ride. I saw with my own eyes the wonders of what goes on inside the bodies of insects, cats, worms, fishes, and human beings. I worked and listened to lectures in the laboratory from morning till late afternoon, and late nights would be dedicated to more studying, more note taking, and more memorization. For this amount of time I was greatly invested in my intellectual development, but I always felt I needed something more for my personal growth and interest. I needed to see another perspective.
So I entered the world of Theater.
I took a leap from the comfort zone of facts and certainty, hence a minor in Theater Arts. I didn't give science up entirely, but I added depth to what I was studying. Whenever I would tell people I have a major in Biology and a minor in Theater Arts I would always get perplexed reactions of why am I taking such opposing courses. The thing is, 2 years into mixing the two disciplines; I realized that the two actually compliment each other. Biology is the study of life, and Theater was how to live life. I finally found the missing perspective I was longing for.     
Theater, being a form of art in itself, helped me to express myself more. It helped me with how I related to other people. Taking on different characters required me to respect the circumstances of my given role, and this eventually led on to my better understanding of the people around me. It helped me gain self-respect, as I learned how to love myself. I learned how to silence my inner critic, the dark side of me telling me I wasn't good enough. I learned how to accept compliments. I learned how to accept criticisms and work on my craft. The depth of learning I continuously experience in theater is nothing short of amazing.
Five years into college now, with both Biology and Theater, and I felt like I made one of the best decisions of my life. I am more in touch with all my dimensions as human person, not only intellectually, but also physically, emotionally, and spiritually. How I portray myself to other people is a form of art by which I get to express my own thoughts, aspirations, and goals in life.
The messages I impart on the audience watching theater is a purpose that resonates so much on the essence of human dignity, as I get to communicate reality that is so often overlooked. I'd like to believe that I impart a part of my soul to the audience whenever I put myself out there. I go beyond myself and I offer the power of this art to society, hoping that man looks at life not just with cold, hard reason but also with a heart. I would like for man to look through these two lenses.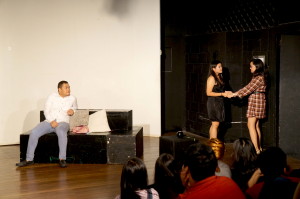 Theater is not the only avenue as to which we can all imbibe the essence of the gift of life and human dignity. Our everyday living is a manifestation of so much beauty. If we can all just take some time, pause, and think – I believe we can all truly say, "All the world's a stage."
Written by Monica Carlos, a current intern at the WYA Asia Pacific office.