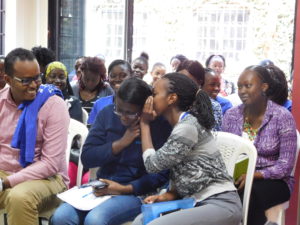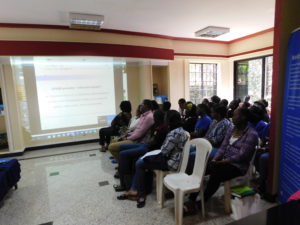 [tabs] [tab title="English"]
I am pleased to share with you my personal experience on the FEMM program. FEMM stands for Fertility Education Medical Management and is a sister organisation to the World Youth Alliance.
We had three speakers; Dr Kilonzi who talked about Reproductive Health and Fertility, Dr Wahome talked about Human life cycle, and the Main speaker Gabrielle who gave the general outlook and introduction to FEMM.
It was on Saturday 27th January, 2018 when I was privileged to prepare and participate in a FEMM Workshop that was held at World Youth Alliance Africa, regional office (Nairobi-Kenya) where I was able to acquire much information about FEMM and its activities.
Our Regional Director, Ms. Patricia Gwambo, started by giving us a brief about FEMM as a comprehensive women's health program which helps you to learn about your body, track your health, manage your fertility and empower women with information about their bodies and fertility. This will enable them to make better and more informed choices about their relationships, the age of their sexual debut and marriage partner choice.
Dr Kilonzi came up with a deep explanation about women's reproductive health on fertility awareness where a woman can have a primary infertility (unable to get a baby) and a secondary infertility (unable to bear a baby).
Dr Wahome explained about our human life cycle, the meaning of life (our purpose on Earth) and the value of a person, through a Christian perspective and family planning process.
The discussion and the teachings were very enlightening and interesting to both women and men in the audience, where men were able to learn about a woman's value and how they can contribute to help them.
I went to learn about my value, understood my life, and I'm now able to track my health which will enable me to get solutions regarding my worries about my health. Good health is the basis of everyone's growth in all aspects of life.
Nowadays most young people my age get negative or misleading information that could lead them making uninformed decisions that may end up affecting them.
I would like to see everyone around the world get to know FEMM, and for it to be established in education systems (high schools for young people) which will contribute to the reduction of many issues like (unpredicted pregnancies, ovarian disorders, hormonal problems, etc.).
FEMM is for everyone, both men and women. Let us take the initiative to get a deep understanding of our reproductive health together with FEMM and build a sustainable life for everyone as a way of promoting and empowering our human dignity.
Written by Barbine Irabaruta, current batch 1 2018 regional intern at the WYA Africa office.
[/tab]
[tab title="French"]
Je suis heureux de partager avec vous mon expérience personnelle sur le programme FEMM. FEMM signifie la gestion médicale et l' éducation de fertilité est une organisation sœur de la World Youth Alliance.
C'etait Samedi le 27 Janvier 2018, quand j'eu le privilège de préparer et de participer à un atelier FEMM qui a eu lieu à World Youth Alliance Africa,bureau régional (Nairobi-Kenya) .Lorsque j'ai pu acquérir beaucoup d' informations sur FEMM et ses differents activités.
Nous avions eu trois haut – parleurs; Dr Kilonzi qui nous a parlé de la santé reproductive et de la fertilité, le Dr Wahome nous a parlé sur le cycle de la vie humaine, et l'oratrice principale Gabrielle qui nous a donnée les perspectives générales et l'introduction sur FEMM.
Notre directeur régional Mme Patricia Gwambo a commencé par nous donner un bref sur FEMM comme un programme de santé des femmes complets qui les aide à en apprendre d'avantage sur leur corps, suivre leur santé, gérer leur fertilité et du pouvoir aux femmes des informations sur leur corps et leur fertilité, pour permettre faire des choix mieux informées au sujet de leurs relations, l'âge des premiers rapports sexuels et le choix des partenaires de mariage.
Dr Kilonzi est venu avec une explication profonde sur la santé reproductive des femmes sur la conscience de fertilité, où une femme peut avoir une infertilité primaire (incapable d'obtenir un bébé) et une stérilité secondaire (incapable de supporter un bébé).
Dr Wahome a expliqué au sujet de notre cycle de la vie humaine, le sens de la vie (notre but sur Terre) et la valeur d'une personne, par une perspective chrétienne et le processus de planification familiale.
La discussion et les enseignements ont été très instructif et intéressant aux femmes et aux hommes qui etaient present, où les hommes ont pu en apprendre d'avantage sur la valeur d'une femme et comment ils peuvent contribuer à les aider au cas de complication.
Je vais en apprendre d'avantage sur ma valeur, compris ma vie et je suis maintenant en mesure de suivre ma santé qui me permettra d'obtenir des solutions en ce qui concerne mes inquiétudes au sujet de ma santé. Une bonne santé est la base de la croissance de tout le monde dans tous les aspects de la vie.
Aujourd'hui , la plupart des jeunes de mon âge obtient des informations négatives ou trompeuses qui pourraient les conduire à prendre des décisions mal informées qui peuvent finir par les affecter.
Mon reve est de voir chacun(es) de ce monde entier connaître FEMM, et pour qu'il soit mis en place dans les systèmes éducatifs (écoles secondaires pour les jeunes) et ceci contribuera à la réduction de nombreux problèmes comme (grossesses imprévues, troubles de l' ovaire, des problèmes hormonaux, etc.).
FEMM est pour tout le monde y compris les hommes et les femmes; Chers lecteurs de ce blog prenons l'initiative d'obtenir une compréhension profonde sur notre santé de la reproduction par l'aide de FEMM qui menera une vie durable pour tout le monde comme l'un de moyen de promouvoir l' autonomisation et notre dignité humaine.
Ecrit par Barbine Irabaruta, batch 1 2018, stagiere regionale a World Youth Alliance Africa
[/tab]
[/tabs]