This time around last year, the COVID-19 pandemic drove much of the world into a lockdown. Life as we knew it has not been the same since then. But while the world continues to struggle against the pandemic, we are not trying to survive this crisis alone. Despite the pandemic—or because of it—we have reached out to one another now more than ever before within the confines of our homes and screens.
It is this outpouring of support and the absence of hesitancy in helping others that speak volumes of how we humans naturally navigate toward solidarity. We recognize the need to think of others and do what we can for them especially when we are most able to. For a country with over 7,000 islands, we are never truly too far from one another. In fact, we've even discovered new, creative ways to help.
This is the light at the end of the tunnel and the good work that several WYAAP Chapters have done in the past year. So to the socially distant hands reaching out to others: we see you, we hear you, and we appreciate you. Let's tell your story.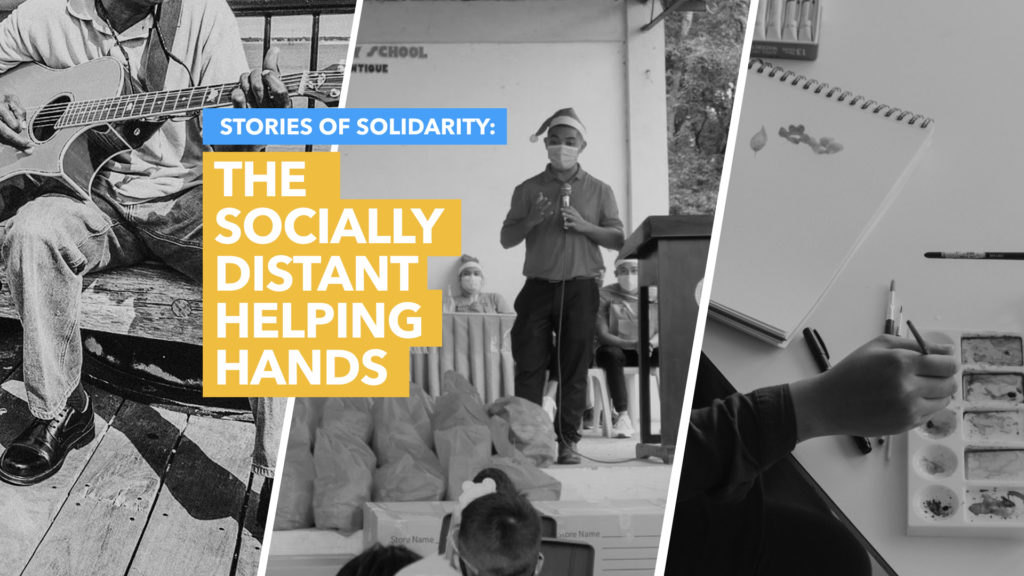 Last December, the World Youth Alliance Antique Chapter organized Project Paglaum: A Christmas Gift Giving Project to the students of Calooy Elementary School in Sibalom, Antique. Paglaum is a Hiligaynon word that means "hope," exactly what the outreach project wishes to convey especially during this time of the uncertainty amid the pandemic. In collaboration with the Ten Outstanding Pupils and Students of Antique and the 2008 Class of St. Anthony's College High School, and through the generosity of donors worldwide, Project Paglaum was able to raise P75,000 worth of monetary and in-kind donations.
While observing proper health protocols, Christmas gift bags filled with school supplies, hygiene kits, groceries, and a lunch meal were given to forty-three students and four teachers. One of the teachers even shared that "the students are very glad and grateful for the gifts that they've received. Seeing them happy and thankful makes a big impact in our community."

Still in the spirit of Christmas season, no pandemic would stop the WYA Miriam College High School (MCHS) chapter's annual Christmas party tradition. On December 18, 2020, WYA MCHS got together an impressive roster of OPM artists and talented high school student performers for an online benefit concert called Diwata: Naghahatid ng Milagro ng Pasko. The concert featured classic Christmas song performances held via Facebook live by these artists who generously offered their talents to give back to the community.
100% of the proceeds of Diwata went to the Laura Vicuña Foundation which is a community-based organization providing special protection and holistic formation to children who are victims of abuse. In tandem with another project of the WYA MCHS chapter, Lila't Kalachuchi: A Merchandise Drive For a Cause, the chapter was able to raise over P25,000.
Diwata actually means "fairy" in Tagalog, and isn't it truly enchanting to tune in to music while celebrating the season of giving with others?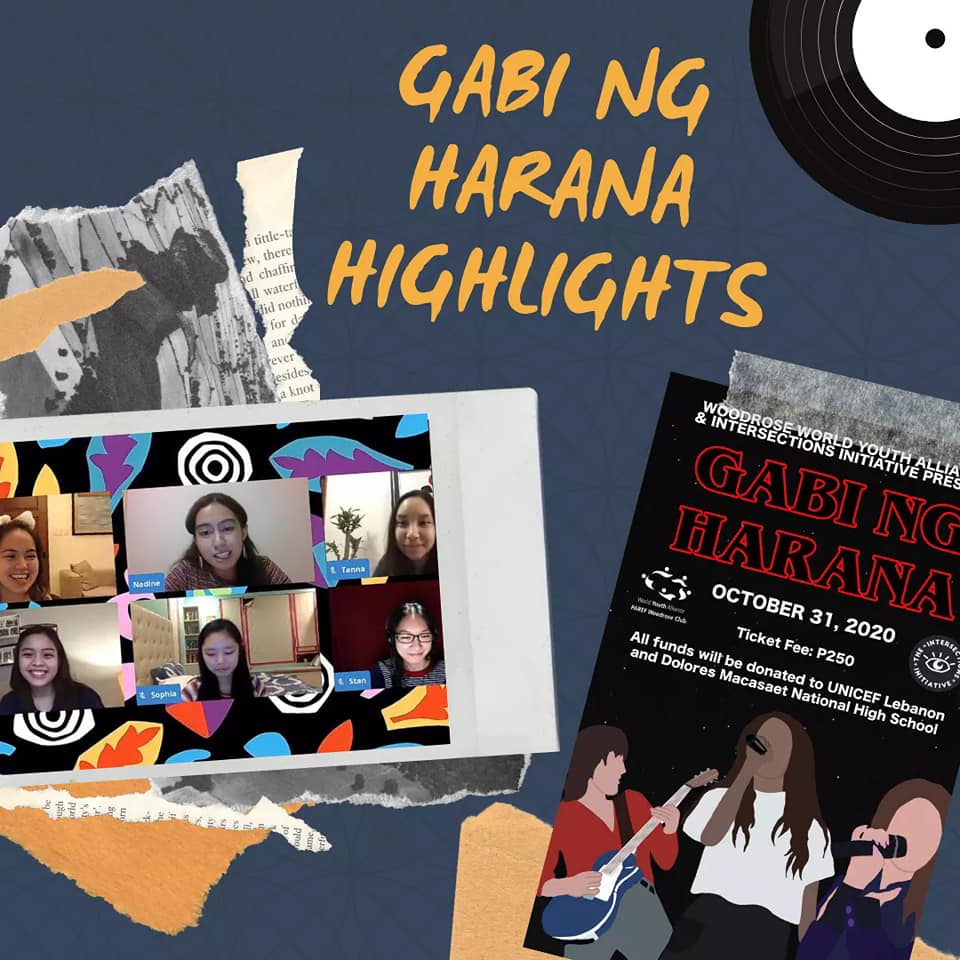 In true Filipino fashion, the music does not stop there. The youth have always been brimming with unique talents and the WYA Paref Woodrose Chapter has channeled this passion into helping others both near and far. Through their Gabi ng Harana: A Night of Serenading Music, they were able to showcase Filipino culture through music while upholding WYA's mission of promoting human dignity. The chapter saw this as an opportunity to help local public schools in the Philippines that are in need of distance learning materials while also providing relief aid to those who were affected by the explosion in Beirut, Lebanon.
Through the Streamyard platform, the WYA Paref Woodrose Chapter brought a night of music from local artists to everyone's own homes and relief to those struggling in theirs. It was a simple ripple effect that made a huge impact: every purchased ticket worth P250 each was a donation to Dolores Macasaet National High School and to UNICEF Lebanon. The organizers of this concert for a cause hoped to make both the concert-goers and the performers feel that they played an important their part in this ripple effect.
Gabi ng Harana successfully raised P63,100—more than double of its original goal. Without a doubt, the collaborative effort of all those people behind the scenes reached far and wide beyond their screens.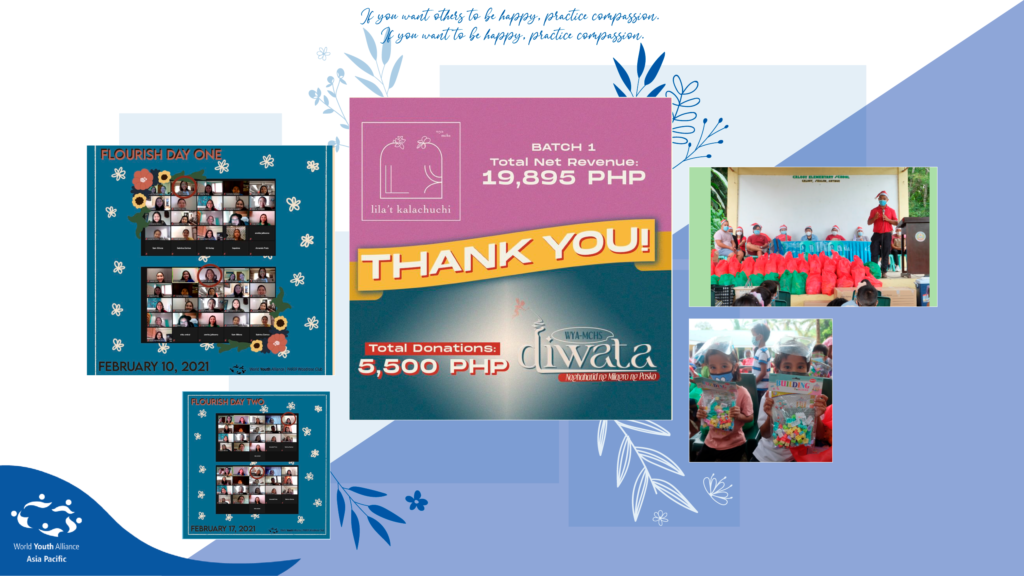 Like many other countries, the pandemic is but one of the many problems faced by the Philippines. Last November 2020, several parts of the Philippines were ravaged by Typhoon Ulysses (Vamco). On top of the health and economic repercussions brought by the pandemic, Typhoon Ulysses caused severe flash flooding and displaced a lot of Filipinos. This was when the WYA Iloilo Chapter stepped up with a fundraising project in mind.
The chapter understood the humanitarian imperative to meet the immediate needs of those affected by the typhoon and give them hope despite dire circumstances. WYA Iloilo volunteers served as project ambassadors who reached out to potential donors with the goal of raising a minimum of P25,000 and collecting hygiene kits, food, unused clothes, and other necessities. Moreover, instead of the chapter holding their annual Christmas outreach program, they created an Art for a Cause project instead as part of the fundraising drive for the typhoon victims. Apart from giving monetary donations, donors may opt to buy from partner artists or be one themselves.
WYA Iloilo has thus far raised a total amount of P34,534 to be coursed through the Philippine Red Cross. With this donation, 120 beneficiaries in different barangays in Peñablanca, Cagayan will be given hygiene kits, face masks, vitamins, and other essentials to help them rebuild and restart their lives. Upon congratulating WYA Iloilo Chapter Head Rejean Darroca for the success of their fundraising drive, she only had her wonderful project team to thank.
This is what keeps us going. As we approach the one-year anniversary of the pandemic, let's allow ourselves to make space to see the silver linings in the "new normal" and be inspired by the kindness of people who did not hesitate to give it with both hands. To practice solidarity in the most socially distant of times and exercise freedom to do what is good despite so much constraints—these WYA chapters are proof that together, we'll get through the worst of times and see the best of times ahead.
---
Published: May 10, 2021
This was written by Stacey Bellido, a member of the WYA Philippine National Committee.
Want to impact WYAAP's work? Consider becoming an HD (Human Dignity) Patron today! Visit bit.ly/HDPatronPR