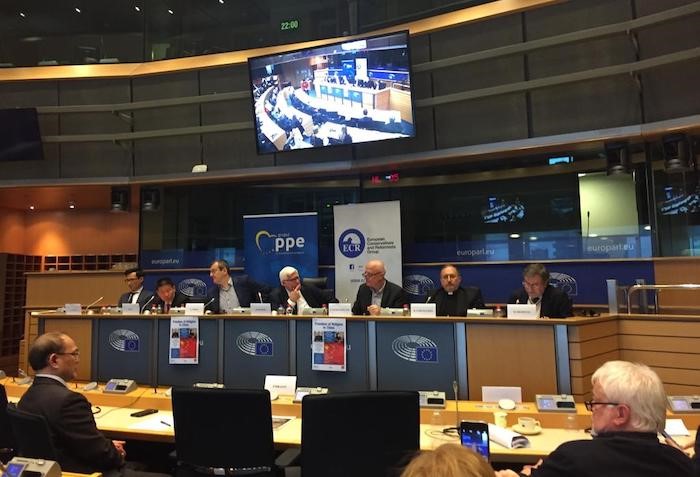 28 January, EUROPEAN PARLIAMENT, BRUSSELS – The WYA Europe team attended the conference on Freedom of Religion in China in the European Parliament on 23 January. Freedom of religion, conscience, or belief is included in the Universal Declaration of Human Rights under article 18. It is likewise enshrined in article 18 of the International Covenant on Civil and Political Rights (ICCPR), which guarantees freedom of worship and religious observance. China has signed but has not ratified the ICCPR. However, it has ratified the International Covenant on Economic, Social, and Cultural Rights, which guarantees equal rights regardless of religion, or other distinguishing factors in article 2.
As has been widely reported in the press, China's domestic suppression of religious groups and activities has been intensifying in recent years. The repression of the Uighur people in Xinjiang is one facet of a broader attack on religious freedom throughout China. People of other faiths are also facing increasing restrictions on their right to congregate, worship and believe freely. This seminar took a closer look into the current situation and the prospects of religious freedom in China from Christian, Muslim and non-governmental organisation (NGO) perspectives.
Speaking first, Bob Fu, a Chinese-American pastor and the founder of China Aid, explained the situation of Chinese practitioners of religions under the communist regime and State President Xi Jinping. He talked about innocent religious people being tortured and forced to go to prison or so called "re-education" camps which turn out to be concentration camps. China Aid tries advocates for saving those innocent people from punishment and captivity.
Religious temples and churches are being destroyed and religious symbols are forbidden. At Christmas, the communist party made people sing communist anthems before singing their traditional worship songs in church. They also forbid children and young people under eighteen to enter church in order to interfere with their parents passing on their religious faith. Fu said the conference that the president, who already has power, is fighting against the symbols and the worship of any religion.
Next to Fu sat a young entrepreneur from Washington, Kuzzat Altay, a refugee from China who escaped from the persecution of religious people in 2005, coming to the U.S. when he was nineteen years old. Since 2009, he has not received any communication from family members who stayed in China, and has lost touch with extended family and friends as well. Altay's experience of friends and family disappearing without a trace in the hands of the state is not an outlier.
It doesn't matter if you are Muslim, Christian, Buddhist or Jewish, the communist party views every religion as an enemy and a rival for citizen loyalty. The aim of Xi Jinping and his party is to isolate religious dissidents from society, thus removing "false" faiths and replacing religion with faith in communism and Xi Jinping as their ultimate leader. Those who answer to an authority other than the state are considered unreliable citizens.
One of the conference's speakers called 2018 "the worst year" in terms of religious freedom. Reports from various non-governmental organizations, news agencies, and individual witnesses confirm these violation of human rights, human dignity and freedom. Speaker Bob Fu stressed that we must "let [the victims] know they're not forgotten."
Advances in technology have allowed the regime to spread propaganda and to control access to information, including about religion. The strict controls on telecommunications, sometimes called the "Great Firewall of China," make it nearly impossible to connect with the suffering people in China, particularly those being held in internment or reeducation camps. This control of information makes it extremely difficult to know the scale of the detentions, or the suffering of those inside, as information must be smuggled out.
Respect for human dignity requires respect for individual freedom, including freedom of religion and belief. World Youth Alliance encourages all governments to guarantee this fundamental freedom for all members of their society, and will continue to follow this issue.
[su_divider top="no" size="1″]
Written by Elisabeth Wolff, a Batch 1 regional intern in the WYA Europe office in Brussels