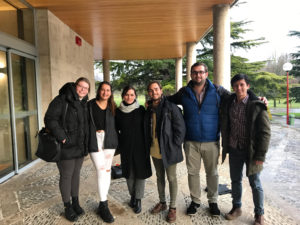 On February 2nd and 3th, WYA Europe Regional Director of Operations Anita Dekanić was at the University of Navarra in Pamplona, Spain to train members to be future Certified Training Program teachers.
On the first day, future trainers went through the key points of the first four Chapters of WYA's Certified Training Program. They had an opportunity to simulate CTP discussions and to practice leading and mentoring the group. This day was also dedicated to discussions on main ideas, connecting those ideas to authors, and correcting sample answers.
Three final Chapters were covered during the second day of the training. The practical part of the training again consisted of CTP discussion simulations and mentoring, correcting answers, and going through the crucial language of UN documents. Members had a chance to recognize examples of good, but also of problematic or ambiguous language that appears in the national and international law documents.
After this training, members at the University of Navarra will start forming a new WYA Chapter. They will already be starting with their first CTP group by the end of February. New trainers are motivated and eager to start training young people from their University who will be able to promote and defend the dignity of the person in their lives and local communities.