Last 2020, the World Youth Alliance launched the pilot of its highly requested Advocacy Academy online. Since then, it has been officially offered as part of the available training in all regional offices at the beginning of the 2021. Due to popular demand, regions have released the application deadlines for the Batch 2 and 3 intake of this year.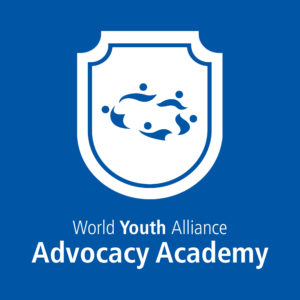 The WYA Advocacy Academy is a 7-week program designed to educate active and certified WYA members on current global policy debates and equip them with the knowledge to develop person-centered responses. During the training program, WYA members will study the WYA White Papers. These are reports which examine complex issues, explain WYA's positions in response to current global debates, and address the most significant topics in global policy discussions and in key international proposals. Topics covered include Assisted Suicide & Euthanasia, Surrogacy, Reproductive Health, and many more.
If you think you're the right fit for the Advocacy Academy, don't just take it from us. Listen to the members who have gone through the pilot of the WYA Advocacy Academy online in 2020:
Myriam Audras (France)
Myriam, WYA France Chapter Head, represented the Europe region in the pilot. She shares: "With no hesitation, the best lesson I have learnt is how being kind and careful are the key to a successful advocacy work. Careful with the texts you are going to have to read or the speech you are going to listen to and the words that are used, because we can make words say what we want, this complicates our work for sure. If we are careful, then we will find answers that respect our beliefs and we will be able to start making a difference. As for kind, because as controversial as WYA's values might be for some youth or politicians today (everything is controversial nowadays but still), if we are kind and compassionate to every one's own specific situation, then they will open to us and without this first step, bonding, no difference can be made."
Miriam Ogwel (Kenya)
Miriam, an incoming WYA Headquarters intern, shared how the Advocacy Academy allowed her to effectively contribute to policy related work in her country. "The Advocacy Academy was very interactive and I got to learn quite a lot on Reproductive Health. The Academy coincided with (the) introduction of the Reproductive Health Bill in Kenya. I am glad that this prepared me to talk to my Senators to vote against it as a Youth standing for human dignity," Miriam explains.
In parting, WYA France's Myriam Audras shared this challenge to those who wants to take part in WYA's one of a kind approach to advocacy: "…to WYA's great future trainees: Take this Advocacy Academy seriously….because the first person it will serve and who will benefit from it is You. Read carefully the White Papers, they will provide you a solid basis to the discussions and the motivation to be a great WYA Advocacy defender…."
Check out the upcoming application deadlines in your region by visiting this link.